William 'Bill' Lewis Owens
William 'Bill' Lewis Owens
House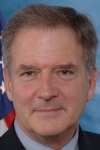 Birthdate: Jan. 20, 1949
Birth Place: Brooklyn, NY, United States
Residence: Plattsburgh, NY
Religion: Catholic
First Elected: 2009
Gender: Male

Candidacy
Party: Democratic
State: New York
Office: House
District: District 21

Education
Undergraduate: Manhattan College
Degree: BA

Graduate: Fordham University
Degree: JD

Bill Owens was born in Brooklyn, N.Y., and now lives in Plattsburgh. He earned a bachelor's from Manhattan College and a law degree from Fordham University.
Owens was a captain in the Air Force and was assigned to the base at Plattsburgh in northern New York.
He was later a managing partner at the law firm Stafford, Owens, Piller, Murnane, & Trombley PLLC in Plattsburgh. He practiced law for 30 years before he was elected in 2009 to fill the unexpired term of Republican Rep. John McHugh, who was named secretary of the Army.
Owens and his wife, Jane, have three children.
Profile
Bill Owens, the first Democratic congressman from the region since the 1850s, won a special election in 2009 to northern New York's 23rd District U.S. House seat.
In both the 2009 and his 2010 re-election race, he won with help from a split ticket between Republican and Conservative Party candidates. Owens for a second time is facing Republican Matt Doheny in 2012, but this time Doheny also has secured the Conservative line. The race is expected to be competitive.
A Democrat in a Republican-leaning district, Owens does not always vote with his party. He voted with his fellow Democrats for the 2010 health care reform bill but was one of the few Democratic House members to vote against the Dodd-Frank financial overhaul legislation.
Owens has said he's working against any infringement on citizens' right to bear arms. He supports legislation to establish a national standard for carrying concealed firearms.
He has been active in border issues that affect his northern New York district and worked to expedite government aid after Tropical Storm Irene ravaged portions of his district.
Owens has said job creation and reducing the federal deficit are first and foremost on his list of important issues.
He says farmers should be supported to ensure the United States has the safest, most reasonably priced and plentiful food supply in the world, and that the issue should be regarded as a national security issue and treated with that level of importance.
Owens stresses support for veterans, including training for caregivers to those suffering from traumatic brain injury, tax deductions for veterans traveling to Department of Veterans Affairs facilities, and automatic enrollment in the VA upon discharge from active duty to eliminate the waiting period before veterans can access services.
Source: Associated Press