Xavier Becerra
House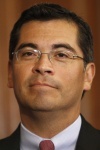 Birthdate: Jan. 26, 1958
Birth Place: Sacramento, CA, United States
Residence: Los Angeles, CA
Religion: Catholic
First Elected: 1992
Gender: Male

Candidacy
Party: Democratic
State: California
Office: House
District: District 34

Education
Undergraduate: Stanford University
Degree: BA

Graduate: Stanford University
Degree: JD

Xavier Becerra was born in Sacramento, Calif., and now resides in the Eagle Rock section of Los Angeles. He attended Stanford University where he earned a bachelor's in economics and a law degree.
Becerra began his career in 1984 working in a legal services office representing the mentally ill. He later became deputy attorney general with the California Department of Justice.
He was elected to the state Assembly in 1990 and to the U.S. House in 1992.
Becerra and his wife, Carolina Reyes, have three daughters.
Profile
Xavier Becerra has emerged as an influential voice on immigration, health care reform and tax issues. He became the first Hispanic lawmaker to sit on the House Ways and Means Committee, giving him an influential role in tax policy.
Becerra took a strong hand in the 2010 health care reform bill, including advocating for protections for lower-income people. He supported a provision to allow illegal immigrants to buy insurance with their own money from a government-created marketplace, an idea the White House rejected.
Becerra is a member of the National Commission on Fiscal Responsibility and Reform, which is tasked with finding ways to reduce the federal deficit and improve the nation's fiscal health.
Becerra emerged in late 2008 as the leading candidate for U.S. trade representative in President Barack Obama's administration, but he decided to stay in the House. He currently serves as vice chairman of the House Democratic Caucus, which sets legislative priorities for the party's lawmakers.
He has introduced on several occasions the Taxpayer Bill of Rights Act, which would provide assistance to lower-income people with tax preparation and filing and require the federal government to publish and clarify the rights and obligations of taxpayers.
He voted in 2011 against raising the debt ceiling, despite the risk of default, because he felt the legislation placed too much burden on "working Americans."
Becerra has been an outspoken critic of Arizona's 2010 illegal immigration law.
His mother was born in Mexico and she immigrated to the United States after marrying his father. Becerra was the first in his family to attend college, and he remains a staunch supporter of reforming the immigration system.
He has criticized an immigration enforcement program that checks the fingerprints of arrestees, arguing that the checks threaten to erode the community's trust in police.
Becerra supports affirmative action and voted for expanding the definition of hate crimes to include crimes committed based on the victim's gender, sexual orientation or disability. He is also a vocal supporter of same-sex marriage.
Becerra proposed a bill supporting a National Museum of the American Latino, which passed in 2008.
He voted against the resolution authorizing the use of military force against Iraq, and against a supplemental bill to finance the war.
Becerra was chairman of the Congressional Hispanic Caucus from 1997 to 1998.
Source: Associated Press