Zoe Lofgren
House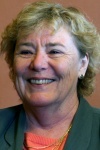 Birthdate: Dec. 21, 1947
Birth Place: San Mateo, CA, United States
Residence: San Jose, CA
Religion: Lutheran
First Elected: 1994
Gender: Female

Candidacy
Party: Democratic
State: California
Office: House
District: District 19

Education
Undergraduate: Stanford University
Degree: BA

Graduate: University of Santa Clara
Degree: JD

Zoe Lofgren was born in San Mateo, Calif., and resides in San Jose. She earned a bachelor's degree from Stanford University and a law degree from Santa Clara University.
Lofgren was elected a trustee of the San Jose-Evergreen Community College District in 1979 and the following year was elected to the Santa Clara County Board of Supervisors.
She was on the board until her election to Congress in 1994.
Lofgren and her husband, John, have two children.
Profile
Zoe Lofgren, a pro-business moderate representing California's 16th District, has spent seven terms in the U.S. House, joining fellow Democrats in fights she sometimes expected to lose. In 2012, after redistricting following the 2010 Census, Lofgren is running for the House from California's 19th District.
Lofgren is a vocal supporter of the voter-approved high-speed rail project in California, despite growing opposition by some who say the state cannot afford it. In March 2012 she said: "The time to build high-speed rail in California is now. Congested highways and airports cost billions each year in wasted productivity and energy _ money that could be better used growing our economy. Without high-speed rail in California, our state will need to build over 4,000 new freeway lane miles, 115 new airport gates and 4 new runways just to keep up with population growth."
In April 2012 she introduced bipartisan legislation barring Vietnam from special U.S. trade preferences because of human rights abuses.
Lofgren served from 2009 to 2011 as chairwoman of the U.S. House Ethics Committee. In 2010, she led an Ethics Committee inquiry into whether anyone covered up information that former Rep. Eric Massa sexually harassed male staff members. In late 2010, the Committee voted 9-1 to recommend to the House that Massa be censured. Massa resigned in March 2010.
Lofgren opposed California's Proposition 8, which banned gay marriage. Responding to the U.S. Court of Appeals decision in February 2012 to overturn the proposition, she said, "There is no doubt today's decision is welcomed by Californians whose dreams of marriage were put on hold by this unconstitutional ban. But with the architects of Prop 8 vowing an appeal to the Supreme Court, we know the battle for marriage equality is not over. This is a fundamental American civil right, and I am committed to standing with those fighting to make marriage equality a reality."
Lofgren voted against a ban on gays in the Boy Scouts and against President George W. Bush's faith-based initiatives. She also voted against a ban on late-term abortions, arguing that Republicans were seeking to undercut abortion rights in piecemeal fashion.
A 2004 bill would have criminalized assaults on pregnant women that lead to a fetus' injury or death. Lofgren countered with her own bill that would criminalize the violence but not confer separate legal rights to a fetus.
She authored legislation in 2008 that would make it easier for foreign students to work in the United States if they earn a graduate degree in science, technology or math at a U.S. university.
Silicon Valley is a key constituent in Lofgren's district, and she has been a major proponent of increasing the number of visas issued to overseas workers destined for high-tech jobs.
She authored legislation in 2007 to protect unaware computer users from malicious spyware programs that install on their computers. She has supported bills extending a moratorium on taxing the Internet, and she authored legislation in 2008 for a moratorium on new taxes on cell phone use.
Lofgren voted against the war in Iraq in 2006 and opposed a 2008 war-spending bill because Bush had not provided a plan for troop withdrawal.
She led an effort by House Democrats to call for investigations into the legality of the Bush administration's domestic wiretapping program.
She was one of the negotiators on a bill in spring 2009 that would require bankruptcy judges to consider whether banks offered homeowners reasonable loan restructuring deals before judges provide remedies. The changes would bring the legislation closer to what the banking lobby finds acceptable.
Source: Associated Press