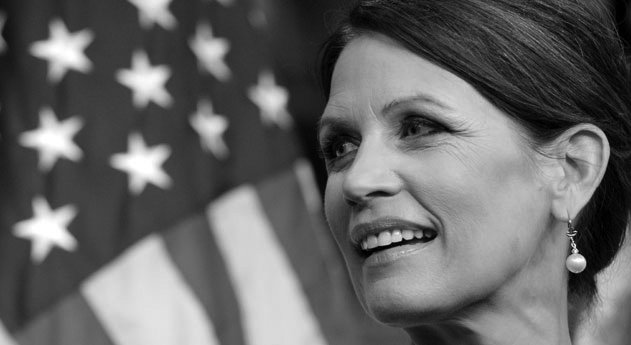 Michele Marie Bachmann
Birthdate: April 6, 1956
Birth Place: Waterloo, IA, United States
Residence: Stillwater, MN
Religion: Evangelical Lutheran
First Elected: 2006
Gender: Female

Candidacy
Party: Republican
State: Minnesota
Office: House
District: District 6
Status: Incumbent
Next Election: 2012
Campaign Phone Number: 202-225-2331
Official Phone Number: 202-225-2331
Education
Undergraduate: Winona State University
Degree: BA

Graduate: College of William and Mary
Degree: LLM

Graduate: Oral Roberts University
Degree: JD

Michele Bachmann was born in Waterloo, Iowa, and now lives in Stillwater, Minn. She earned a bachelor's from Winona State University and law degrees from Oral Roberts University and the College of William and Mary.
She worked on the presidential campaign of Democrat Jimmy Carter, but grew disenchanted with the Democratic Party.
She and other parents started a K-12 charter school in Stillwater, and she began speaking against a state-mandated set of educational standards, which propelled her into the world of politics.
Bachmann spent five years as a federal tax litigation attorney before she was elected to the Minnesota Senate in 2000, where she served two terms.
She was elected to the U.S. House in 2006. She ran unsuccessfully for the Republican presidential nomination in 2012, but decided to seek a new term in Congress.
Bachmann and her husband, Marcus, own a small business mental health care practice in Stillwater. They have five children and have cared for 23 foster children.
Profile
Michele Bachmann is ready to test the well-worn adage about not being able to go home again.
In 2011, she was a contender for the Republican presidential nomination, but her campaign ended in a whimper on Jan. 4, 2012, after she came in last in the Iowa caucuses. She has since set her sights on a return to Congress from her conservative Minnesota district.
Bachmann is no stranger to the spotlight, a product of her edgy comments and steady presence on cable talk shows. She riles up a loyal conservative base with strong condemnations of President Barack Obama and his congressional allies.
Her comments sometimes push the bounds of accuracy, which provokes blowback from inside her party and out. But she's learned to harness criticism against her to fuel a powerful fundraising machine.
Bachmann came to Washington in 2007 after spending six years in the Minnesota Legislature. In Congress, she co-founded the House Tea Party Caucus.
She first jumped into national view during a 2008 appearance on MSNBC's "Hardball with Chris Matthews" when she suggested that Obama "may have anti-American views."
Bachmann survived the ensuing controversy, winning re-election that year by 3 percentage points over Democrat El Tinklenberg, even though some $1.8 million poured into his campaign after her comments. National Democrats spent $1 million on advertising in the race, while cash-strapped national GOP groups pulled their money out.
In summer 2012, her allegations that the fundamentalist Muslim Brotherhood had infiltrated the U.S. State Department drew rebukes by prominent Republicans and Democrats. Bachmann didn't back down and used the incident to convince donors she was under attack.
Bachmann's 2010 re-election bid in Minnesota's most conservative district received the support of former Alaska Gov. Sarah Palin and she cruised to victory over a state senator. In 2012, she faces Democratic first-time candidate and hotelier Jim Graves.
Bachmann first got involved in politics over school issues, but became known in Minnesota as a lightning rod on gay marriage. She brought the state Senate to a halt in 2004 with demands for a floor vote on a constitutional amendment outlawing same-sex unions.
In her abbreviated bid for the White House _ she won the Iowa GOP's straw poll but finished last in its leadoff caucuses _ she talked more about fiscal issues than social ones. She advocates for lower taxes, and she voted against Obama's major initiatives, especially his signature health care law. She strongly opposed the agreement worked out by Congress and the White House to raise the debt ceiling and avoid a default.
In 2008, she voted against the $700 billion financial industry bailout under then-President George W. Bush.
Federal Election Commission Candidate Disclosure
FEC Candidate ID: H6MN06074
---
I. Receipts:
Amount
Itemized Individual Contribution:
$7,314,623.20
Contributions must be itemized (i.e. listing specific information about the donor and the contribution) when the total given to the campaign from a single individual exceeds $200.
Unitemized Individual Contribution:
$14,275,287.97
Total given to the campaign where specific information about the donors is not required because they have not given more than $200.
Total Individual Contributions:
$21,589,911.84
Party Committee Contributions:
$5,200.00
Contributions from party committees.
Other Committee Contributions:
$253,240.00
Mostly contributions from PACs, also includes contributions from other candidates.
Candidate Contributions:
$0
Contributions from the candidate him(her)self.
Total Overall Contributions:
$21,848,351.84
Transfer from other Authorized Committee:
$2,755,788.08
Candidates may have more than one committee working for their election (including jointfundraising committees).
Candidate Loans:
$0
Loans received from the candidate.
Other Loans:
$0
Often from banks, but must be made in the normal course of business including interest rates and collateral. Loans from individuals are treated as contributions.
Total Loan Amount:
$0
Operating Expenditures Offsets:
$171,703.87
e.g. refund of deposit for phone bank, etc..
Fundraising Offsets:
$0
Applies only for Presidential candidates receiving public matching funds in the primaries.
Legal and Accounting Offsets:
$0
Applies only for Presidential candidates receiving public matching funds in the primaries.
Total Offsets:
$0
Other Receipts:
$739,473.89
e.g. interest on bank deposits, capital gains, etc.
Total Receipts:
$25,515,317.68
---
II. Disbursements:
Amount
Operating Expenditures:
$21,934,518.69
Total of normal operating expenditures. These must also be itemized when payments to a specific vendor exceed $200.
Transfers to Authorized Committees:
$3,103,174.08
Candidates may have more than one committee working for their election (including jointfundraising committees).
Candidate Loan Repayment:
$0
Loan repayments to the candidate.
Other Loan Repayment:
$0
Loan repayments to banks or others.
Total Loan Repayment Amount:
$0
Individual Refunds:
$97,854.00
Contribution refunds made to individuals.
Political Party Refunds:
$0
Contribution refunds made to parties.
Other Committee Refunds:
$0
Mainly PACs or other candidates.
Total Contribution Refunds:
$97,854.00
Other Disbursements:
$15,975.40
e.g. donations to charity, contributions to state or local candidates, etc.
Total Disbursements:
$25,151,522.17
---
III. Cash Summary:
Amount
Ending Cash on Hand:
$2,224,223.05
Ending cash balance on the most recent filing.
Net Contributions:
$38,530,952.66
Sum of all contributions minus any contribution refunds.
Net Operating Expenditure:
$39,199,198.00
Sum of all operating expenditures minus any offsets to those expenditures.
Debts Owed by Committee:
$169,558.00
Debts Owed to Committee:
$0
Last File Date: 2012-11-26
PAC Contributions
| | | |
| --- | --- | --- |
| PAC | Date | Amount |
| AMERICAN INSTITUTE OF CERTIFIED PUBLIC ACCOUNTANTS POLITICAL ACTION COMMITTEE | Aug. 8, 2012 | $2,500 |
| AMERICAN BANKERS ASSOCIATION PAC (BANKPAC) | July 10, 2012 | $2,500 |
| ENTERPRISE HOLDINGS, INC. POLITICAL ACTION COMMITTEE | June 20, 2012 | $5,000 |
| BACHMANN FOR CONGRESS | Nov. 30, 2011 | $2,000,000 |
| LOUIE GOHMERT FOR CONGRESS COMMITTEE | Nov. 30, 2011 | $2,500 |
| SOUTH CAROLINA REPUBLICAN PARTY FEDERAL CAMPAIGN COMMITTEE | Nov. 28, 2011 | $35,000 |
| CITIZENS UNITED POLITICAL VICTORY FUND | Nov. 24, 2011 | $5,000 |
| NATIONAL FISCAL CONSERVATIVE PAC | Nov. 23, 2011 | $2,500 |
| MEDCATH INCORPORATED COMMITTEE FOR THE IMPROVEMENT OF CARDIAC CARE | Nov. 22, 2011 | $2,482 |
| ALABAMA REPUBLICAN PARTY | Nov. 15, 2011 | $10,000 |
| REPUBLICAN PARTY OF IOWA | Nov. 15, 2011 | $135,000 |
| COLORADO REPUBLICAN COMMITTEE | Nov. 14, 2011 | $5,000 |
| REPUBLICAN PARTY OF IOWA | Nov. 9, 2011 | $60,000 |
| REPUBLICAN PARTY OF IOWA | Nov. 9, 2011 | $2,010 |
| KANSAS REPUBLICAN PARTY | Nov. 1, 2011 | $10,000 |
| BECAUSE I CARE POLITICAL ACTION COMMITTEE (BICPAC) | Nov. 1, 2011 | $5,000 |
| NEVADA REPUBLICAN STATE CENTRAL COMMITTEE | Nov. 1, 2011 | $10,000 |
| REPUBLICAN PARTY OF IOWA | Nov. 1, 2011 | $17,000 |
Campaigns
Recent winning percentages for office currently held: 53% (2010), 46% (2008), 50% (2006).
(Last updated by Brian Bakst on October 8, 2012.)
Paid Advertisement
Senate
Virginia Senate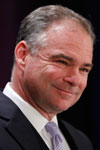 Tim Kaine (D)
Challenger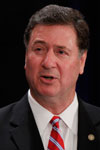 George Allen (R)
Challenger
George Allen, who barely lost his re-election bid in 2006, tries to recapture his seat again. It's no rematch — Sen. Jim Webb, the man beat him, is retiring. But it's still a clash of titans as former Gov. Tim Kaine, who was also chairman of the Democratic National Committee for President Obama, is running to hold the seat for his party.
Latest Election News
Paid Advertisement