Clinton claims Kentucky but Obama targets milestone
LOUISVILLE, Kentucky (AFP) - Hillary Clinton scored a consolation win in today's Kentucky primary, but Barack Obama remained on course to surpass a milestone toward the Democrats' White House nomination.
Television networks projected the former first lady would be the big winner in the bourbon and horseracing state of Kentucky, whose blue-collar voters and older women formed the same kind of pro-Clinton coalition seen in other states.
Fox News said the New York senator had beaten her rival from Illinois by a margin of two to one in Kentucky. CBS said it was a "substantial" win. Clinton picked up at least 33 delegates in Kentucky, with four still to be awarded, according to an analysis of election returns by The Associated Press. Sen. Barack Obama won at least 14.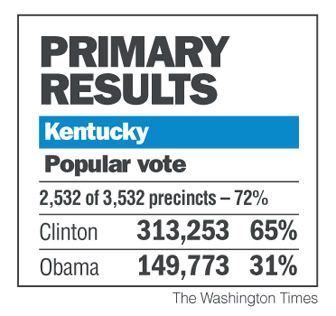 Hillary Clinton vowed to see every vote counted in the Democratic presidential race, despite admitting she faced a "tough odds" fight to beat front-runner Barack Obama.In a victory speech after winning the Kentucky primary, the former first lady signaled she would carry on fighting through the final three nominating contests, to the end of the nominating calendar on June 3.
But Obama was tipped to take the liberal western state of Oregon, where voting was ending at 0300 GMT tommorow, and clinch a symbolic majority of elected delegates after nearly six months of Democratic nominating battles.
Asked earlier if she might bow out of the race tonight, Clinton said "not a chance" before heading to a victory rally here.
Obama, cementing his bid to be the party's champion in November's election showdown against Republican John McCain, was set for his own rally in Iowa, the scene of his shock win in the first nominating contest.
The Iowa event was to remind Americans "that this was a very unlikely journey that we've taken," Obama told MSNBC, while attacking McCain for offering a "third term" for President George W. Bush.
But fearful of provoking the combative Clinton, the Obama campaign denied it was adopting a triumphalist tone about securing a majority of pledged delegates.
"I just see this as a major step. It's not the end," Minnesota's Obama-backing Senator Amy Klobuchar said on MSNBC after Kentucky was declared for Clinton.
Klobuchar dismissed Clinton's argument that Obama would struggle with white working-class voters against McCain.
"The more people see Barack Obama… the better we're going to do with the voters and the people of this country," she said.
But Clinton's campaign chairman, Terry McAuliffe, said the Kentucky outcome was enough to give superdelegates reason to doubt Obama's capacity to win against McCain in November.
"Everybody keeps saying it's over, but Hillary Clinton keeps winning in purple states," he said, referring to swing states that are a mix of Republican red and Democratic blue.
"Every single poll we have seen shows Hillary Clinton beating John McCain."
According to RealClearPolitics.com, Obama had 1,610 pledged delegates heading into Tuesday's primaries, just 17 short of a majority on the final stretch before the Democratic primary campaign ends on June 3.
View Entire Story