The former chief of NASA and three fellow survivors spent a perilous night in harsh weather on an Alaska mountain waiting for a search-and-rescue team to arrive, as officials offered fresh details of the Monday crash of a small, 1957-model corporate plane that killed former Republican Sen. Ted Stevens and four other people on board.
First responders to the crash site — in Alaska's rugged coastal region southwest of Anchorage — are now describing a horrific crash site and a miserable night tending to survivors' broken bones amid a huge sheen of jet fuel that coated a muddy mountainside.
Two days after the crash, the state is still reeling from the aftershocks of the disaster, which claimed the life of a longtime lawmaker many in Alaska had come to know as "Uncle Ted." Instrumental in the state's politics dating back to the time Alaska became a state, Mr. Stevens was the longest-serving Republican senator in U.S. history before his loss in 2008 in Democratic Sen. Mark Begich.
Among the first on the scene was pilot Tom Tucker, who said he arrived at about 7 p.m. local time to find airplane wreckage, fuel, rainy weather, dead bodies and frightened survivors of a fishing trip that went tragically awry.
Mr. Tucker said that as he helped shuttle a doctor and two emergency technicians to the scene about three hours after the crash, he saw one survivor still strapped in the front seat with the nose of the plane disintegrated. The passenger's head was cut, and his legs appeared to be broken.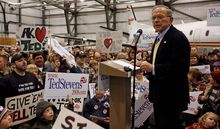 "The front of the aircraft was gone," Mr. Tucker said. "He was just sitting in the chair."
Mr. Tucker and other responders made a tarp tent over the missing cockpit to keep the man dry. It was rainy and cold, and Mr. Tucker thinks the passengers' heavy-duty waders protected them when they went into shock.
"These individuals were cold," he said. "We covered them up with blankets and made them as comfortable as we could."
The plane was owned by General Communications Inc. (GCI), an Anchorage-based provider of telephone, cable TV, Internet and wireless services across the state.
The former NASA administrator, Sean O'Keefe, survived the crash with son Kevin — one of three teens aboard the red-and-white float plane. He and his son sustained broken bones and other injuries.
Mr. O'Keefe was a staffer on the Senate Appropriations Committee, of which Mr. Stevens, 86, was chairman from 2003 to 2005. He and Mr. Stevens were longtime fishing buddies.
Mr. O'Keefe is now the chief executive of EADS North America, a division of the European Aeronautic Defense and Space Co. Mr. O'Keefe was deputy director of the Office of Management and Budget when President George W. Bush asked him in late 2001 to head NASA.
The four other killed were pilot Theron "Terry" Smith, 62, of Eagle River, Alaska; William "Bill" Phillips Sr. of Germantown; Dana Tindall, 48, of Anchorage, a GCI executive; and daughter Corey Tindall, 16, of Anchorage.
Mr. Phillips, another former Stevens aide, was a partner in the Washington law and lobbying firm Utrecht and Phillips.
The two other survivors, who were taken to Providence Hospital in Anchorage with "varying degrees of injuries," were Mr. Phillips' son, William "Willy" Phillips Jr., 13, of Gaithersburg; and James Morhard of Alexandria.