CODY, Wyo. (AP) — The escaped Arizona prisoner captured Monday in northwestern Wyoming has waived his right to fight extradition to Arizona.
Tracy Province appeared in a court in Cody on Tuesday morning, one day after he was caught in Meeteetse. He was in handcuffs and leg irons and dressed in an orange prison jumpsuit.
Judge Bruce Waters told Province he had the right to fight extradition, but Province told the judge he waived that right and then signed a waiver form.
Meanwhile, authorities searched western Montana and adjacent areas of Canada for John McCluskey, another Arizona escapee, and his suspected female accomplice, Casslyn Welch. A Border Patrol helicopter plans to join the search Tuesday.
"There has been a lot of activity in the area," said Fidencio Rivera, chief deputy U.S. marshal for the district of Arizona. "That is one of a few places we are looking at."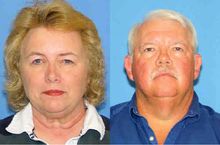 He did not elaborate.
McCluskey, Province and Daniel Renwick escaped from a private, medium-security Arizona State Prison near Kingman on July 30 after, authorities say, Ms. Welch threw wire cutters over the perimeter fence. Ms. Welch is McCluskey's fiancee and cousin.
Renwick, who turns 37 on Tuesday, was captured in Colorado.
Province, 42, was caught Monday as he walked in sleepy Meeteetse, Wyo., steps from a church where he sat in the pews a day earlier and sang "Your Grace Is Enough." He was scheduled for an extradition hearing Tuesday morning, authorities said.
Efforts to find McCluskey, Province and Ms. Welch, 44, intensified after they were linked to a double homicide in New Mexico, with the case airing Saturday on "America's Most Wanted."
On Sunday, Province walked into Meeteetse Community Church, about 60 miles outside of Yellowstone, wearing blue jeans, a blue-checkered flannel shirt and a camouflage backpack slung over one shoulder, worshipper Jay Curtis said. Province looked like the many hitchhikers who pass through town.
"Just shook his hand and said, 'Welcome, welcome to our church,'" said Mr. Curtis, a member of the church band. "He just smiled and said, 'Thank you.'"
A woman who chatted briefly with Province on the steps of the church on Sunday called police after later recognizing him on television, Marshal Gonzales said.
When marshals and other law enforcement officers arrested him, he initially denied being the fugitive, Marshal Gonzales said. He was carrying a 9 mm handgun and the sign that said "Casper," a city about 160 miles to the southeast, authorities said.
Marshal Gonzales said a $40,000 reward was set for the capture of McCluskey and Ms. Welch.