SAN DIEGO — Quarterback Matt Cassel didn't travel to San Diego after having an emergency appendectomy on Wednesday.
It looked like the rest of the Kansas City Chiefs stayed home, too.
Philip Rivers threw two touchdown passes to Malcom Floyd and the Chargers remained alive in the AFC West race with a 31-0 win Sunday over the division-leading Chiefs, who went nowhere without Cassel.
The Chiefs were such a non-factor that they were held to 67 yards, the second-fewest in their history, and suffered their first regular-season shutout loss to the Chargers. The teams began play in 1960 as members of the AFL.
"Defensively, I'm not sure that you could play any better than that," said Chargers coach Norv Turner, who gave game balls to the offensive and defensive lines.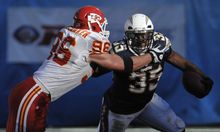 The four-time defending division champion Chargers (7-6) pulled within one game of the Chiefs (8-5). A loss would have eliminated the Bolts from the division race.
After getting outmuscled in a 28-13 loss to Oakland last Sunday, the Chargers were handed two gifts. The first was hearing that Cassel had undergone an emergency appendectomy and that they'd likely be facing backup Brodie Croyle.
The second was the Raiders' loss at Jacksonville earlier Sunday, which dropped the Raiders to 6-7.
"It's a playoff game and we can't lose," Rivers said. "We know that. We can't look to January because there's no guarantee we are going to get there. But it's playoff football from here on out, and it still may not be enough."
Croyle completed 7 of 17 passes for 40 yards and was sacked four times in his first start since the 2009 opener.
The Chargers outgained the Chiefs 426 yards to 67. San Diego allowed only five first downs — one in the second half — to tie its team record.
"When we're on top of our game," we're pretty good," defensive tackle Antonio Garay said. "We backed ourselves into a corner earlier in the season, had a couple of mishaps here and there. One thing that everyone knows about this team is that we're going to fight until the end."
Chiefs running back Jamaal Charles, third in the NFL with 1,137 yards rushing coming in, was held to 40 yards on 10 carries.
"We know their defense is not all that good, but hey, they came through today and stopped us," Charles said.
Rivers was 18 of 24 for 226 yards.