SEOUL (AP) — South Koreans called President Lee Myung-bak "the Bulldozer" when he plowed into office nearly three years ago with vows to stop coddling North Korea with unconditional aid.
These days, however, the nickname has started to ring hollow.
It originally denoted toughness and resolve, stemming from Mr. Lee's days as an aggressive construction CEO. But North Korea's brazen artillery attack on a South Korean island last week and a response slammed as weak are raising questions about Mr. Lee's readiness — and even willingness — to stand up to the North.
In the face of criticism, Mr. Lee replaced his defense minister and moved to boost troops on front-line islands. He also has promised tough consequences for any future aggression and expressed his outrage over the "ruthlessness of the North Korean regime."
He has issued similar pledges before, and the North Korean shelling on Nov. 23 that killed four South Koreans and destroyed parts of Yeonpyeong Island has prompted questions over what critics say is a failed policy toward the North.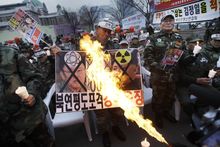 The Dong-a Ilbo newspaper said in an editorial that after Seoul blamed North Korea for sinking a South Korean warship in March, Mr. Lee "promised a 'manifold retaliation' in the event of another provocation and a strike on North Korea's missile base if necessary."
"But his warnings have proven hollow," the newspaper said. "Many wonder if President Lee was resolute in deciding on retaliation" for the island attack.
The government faced more headaches Thursday, when opposition lawmakers expressed outrage over South Korean spy chief Won Sei-hoon's surprise acknowledgment of an intelligence breakdown.
Mr. Won told lawmakers in a private briefing that the South had intercepted North Korean military communications in August that indicated Pyongyang was preparing to attack Yeonpyeong and other front-line islands. Mr. Won didn't expect that attack to be on civilian areas and considered it a "routine threat," according to the office of lawmaker Choi Jae-sung, who attended the closed session.
South Korea's main opposition Liberal Democratic Party said the government had failed to deal with the North's artillery barrage, even though it had intelligence on an impending attack.
"Our intelligence system didn't work," Jun Byung-hun, the party's chief policymaker, said in a statement.
The National Intelligence Service on Thursday declined to comment.
Mr. Lee, who turns 69 this month, has been criticized for leading a military whose response to the Yeonpyeong attack was seen as too slow and too weak: The North fired 170 rounds compared with 80 returned by South Korea.
Satellite photos showed only about 10 South Korean rounds landed near North Korea's army barracks along the west coast, according to the office of lawmaker Kwon Young-se, who said he saw the images provided Thursday by the National Intelligence Service.
There is also disappointment with the South's perceived lack of preparedness despite warnings the North might stir up trouble amid an internal power transfer from Kim Jong-il to his son Kim Jong-un.