In the annual battle over "Merry Christmas" and "Happy holidays," specificity wins out again.
A survey released this week by the Marist Poll showed that 61 percent of Americans preferred the "Merry Christmas" greeting, against just 35 percent who thought "Happy holidays" is more appropriate. The remainder said they were unsure.
"When it comes to holiday greetings, about six in 10 Americans want to throw political correctness out the window," the Marist pollsters wrote.
The preference for "Merry Christmas" was consistent across nearly every demographic group — both sexes, all income and education levels, every region of the country — with percentages in the high 50s or low 60s.
However, there was one significant dissenting group: youths. Americans ages 18 to 29 preferred "Happy holidays" by a margin of 55 percent to 39 percent, while every age group 30 and older favored "Merry Christmas" by margins of almost 2-to-1 or more.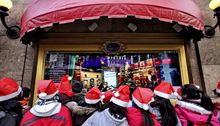 Rob Schwarzwalder, senior vice president at the Family Research Council, agreed that one cause of such a gap likely is American society's increasingly irreligious culture.
"The influence of a secular culture that is often hostile to Christian faith unquestionably has had an effect on younger people," he said, though he went on to elaborate that "there is much good news about today's young believers, who polls show to be more pro-life than previous generations and whose concern for those in need mirrors Christ's compassion for the downtrodden … as we communicate truth in a winsome, clear and persuasive manner, many of our youth are listening with open minds and hearts."
The Marist Poll surveyed 1,029 adults from Dec. 2-8 and has an error margin of 3 percentage points for the overall findings and higher numbers for subgroups.
The findings mirror similar surveys, even when the question was specifically phrased in terms of how businesses should greet their customers.
Rasmussen Reports found in a telephone survey of 1,000 adults taken Nov. 20-21 that 72 percent of adults "prefer stores to show signs saying Merry Christmas [instead of] Happy holidays," while just 22 percent prefer the latter option.
A survey released last week by the Public Religion Research Institute (PRRI) found similar results, though by a much smaller margin. The survey of 1,105 Americans taken Dec. 9-12 asked whether "stores and businesses should greet their customers with 'Happy Holidays' or 'Seasons Greetings' instead of 'Merry Christmas' out of respect for people of different faiths, or not."
Just 44 percent preferred the generic references, while 49 percent said stores should say "Merry Christmas" and 7 percent did not know.
The "war on Christmas" — stories involving taking either "Christ" out of "Christmas" or "Christmas" out of the "holidays" — have become a staple of November and December news coverage in recent years. Examples this year include:
• The American Family Association made out a list this month, after checking it twice, of retailers who use terms like "holidays" over terms like "Christmas." "AFA has reviewed the website and newspaper ads of Radio Shack, Office Depot and Staples. We found terms like 'holiday deals,' 'holiday prices,' 'gifts' and 'happy holidays,' but no 'Christmas,' " the conservative family-values group wrote.
• Chase Bank corporate headquarters ordered a Southlake, Texas, branch to remove a donated 9-foot Christmas tree for fear of causing offense.