GENEVA (AP) — Six world powers held their first talks with Iran in more than a year Monday, pressing Tehran to focus on the need to diffuse fears that its nuclear activities could be harnessed to make weapons.
Delegates from Iran, the United States, Russia, China, Britain, France and Germany met at a conference center in Geneva, with talks beginning after European Union foreign policy chief Catherine Ashton escorted Saeed Jalili, Iran's chief negotiator, into the session.
Tehran says it does not want atomic arms and insists its nuclear program is designed only to provide more power for its growing population. Yet as Iran builds up its capacity to make such weapons, neither Israel nor the United States has ruled out military action if Tehran fails to heed U.N. Security Council demands that it freeze key nuclear programs.
"About 75 percent" of Monday's three-hour morning session was devoted to nuclear issues, said one official close to the talks. That was significant, because the Islamic Republic came to the table insisting that the negotiations address Iran's nuclear program only peripherally — if at all.
Monday's afternoon talks ran 90 minutes past schedule. Mr. Jalili, the first to emerge, smiled at reporters but said nothing. Officials said a second round of talks would be held Tuesday as scheduled.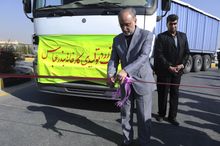 The official said another round of discussions in the new year was possible if the six powers were confident that Tehran was ready to talk seriously about international demands it meet Security Council demands to curb uranium enrichment.
Specific sensitive points brought up Monday included a renewed call by the world powers for an end to enrichment — an activity that the Islamic Republic says is not up for discussion, said the official, who asked for anonymity in exchange for discussing the confidential negotiations.
Publicly, Iran continued to insist that enrichment and related programs were not on the agenda.
"We can't put them up for negotiation," Iranian Foreign Minister Manouchehr Mottaki said in Athens. "When all the countries say that they recognize Iran's right to develop peaceful nuclear technology, there is no room for such questions."
Ms. Ashton and senior officials from the six powers told Iran that doubts about the peaceful nature of its nuclear program were causing instability in the region, the official said.
Mr. Jalili spoke about other themes, including mentioning last week's assassination of an Iranian nuclear scientist and the wounding of an associate, the official said.
Iran says Majid Shahriar, the scientist killed in the bombing, was involved in a major project with Iran's nuclear agency. The wounded scientist, Fereidoun Abbasi, is suspected by the United Nations of links to secret nuclear activities. Iran has accused the West and Israel of being behind the assault.
Iran's semiofficial Fars news agency said the six powers had no clear agenda and were suffering from internal rifts.
The official, in contrast, described the six as remarkably united in their ultimate goal: persuading Tehran to give up enrichment in exchange for technological and economic rewards.
Meir Javedanfar, an Iranian-born expert on Iran who now lives in Israel, described the talks as serving both sides without either expecting a breakthrough.