PORT-AU-PRINCE, Haiti | The headquarters of Haiti's ruling party was set ablaze Wednesday as protests over disputed presidential election results spread through the Haitian capital, prompting the nation's president to call for calm.
Thousands of protesters took to the streets, erecting barricades and setting fires. They were furious that government-backed candidate Jude Celestin, the protege of unpopular President Rene Preval, apparently will go on to a runoff vote, while carnival singer Michel "Sweet Micky" Martelly finished third in official results and is probably eliminated.
Protests have also broken out in Les Cayes, Cap-Haitien and other cities.
Associated Press journalists saw flames leaping from the roof of the Unity Party headquarters, the center of Mr. Celestin's campaign. Witnesses said the building in central Port-au-Prince was on fire for an hour.
Protesters said security guards shot demonstrators as they assaulted the building, but there were no confirmed injures in the fire or demonstration. Several fire trucks tried to control the blaze — an unusual scene in a city with few reliable public services.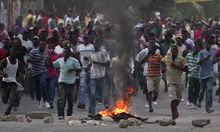 Mr. Preval urged the candidates to call off the protests.
"This is not how the country is supposed to work," he said in a live radio speech. "People are suffering because of all this damage."
The president dismissed allegations that fraud invalidated the election results and faulted the U.S. Embassy for its criticism of the vote, saying it would be up to the country's Provisional Electoral Council, known as the CEP, to review the results.
The official preliminary results have law professor and former first lady Mirlande Manigat in first place, with 31.4 percent of the vote, and Mr. Celestin next, with 22.5 percent. Mr. Martelly has 21.8 percent, trailing Mr. Celestin by about 6,800 votes.
Hundreds of protesters massed near the offices of the electoral council in Petionville, with young men hurling rocks at U.N. peacekeepers in armored personnel carriers. The international troops and police occasionally responded with volleys of tear gas.
The area around the electoral office includes a plaza that is home to several thousand people in a tent encampment erected after the Jan. 12 earthquake. So it was unclear whether all of the people on the street were protesters or if some were spectators.