Help Dad celebrate Father's Day with a gift of multimedia entertainment to enjoy with his buddies or the entire family.
In case you haven't heard, Blu-ray is the de facto winner of the high-definition format wars. And with player prices continuing to plummet, it's time Pops got on the bandwagon.
First, get him the compact and speedy Panasonic DMP-BD65 (as low as $130). The reasonably priced Blu-ray player features Chroma Processor technology to deliver a spectacular picture and includes an Ethernet and USB port for broadband connectivity (wireless requires an extra adapter, sold separately).
Besides playing Blu-ray discs and upscaling standard DVDs, it offers immediate online access to Amazon Video on Demand, YouTube, Picasa Web Albums, Bloomberg, the Weather Channel, Netflix, Pandora, Twitter and Fox Sports. The DMP-BD-65 does not have onboard storage (it includes an SD memory card slot), but the price is right.
Now here's a small selection of what Dad might want to watch on that new Blu-ray player: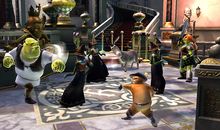 "Saving Private Ryan" (Paramount Home Entertainment, rated R, $39.99) — Steven Spielberg's Academy Award-winning World War II drama about a group of men from the 2nd Ranger Battalion who search for a soldier just after the D-Day invasion offers an emotional roller-coaster ride, especially for veterans. The Sapphire Collection's high-definition presentation is spectacular. Extras include a 90-minute documentary on war photography.
"The Man With No Name" Trilogy: The Sergio Leone Collection (MGM Home Entertainment, not rated, $69.98) — The spaghetti westerns that helped define Clint Eastwood as the meanest hombre in Hollywood — "A Fistful of Dollars," "For a Few Dollars More" and "The Good, The Bad and The Ugly" — get high-definition treatment. An abundance of extra features, including a commentary track and film analysis, historical documentaries, and memories from the production staff and stars make the collection mandatory for the lead gunslinger in the family.
The Official World Series Film Collection (A&E Home Video, not rated, $229.95) — Relive the competitive history of professional baseball teams' ultimate triumph through a 20-disc DVD set packed with almost 50 hours of memories. Fans get the World Series films from 1943 through 2008 and a coffee-table book to reminisce. Any dad whose ears perk up at the mention of Mantle, Mays, Seaver, Bench, Jeter and Stargell will fawn over the set.
"Butch Cassidy and the Sundance Kid" (20th Century Fox Home Entertainment, rated PG, $34.99) — One of the premier buddy movies of all time teams Hollywood superstars Paul Newman and Robert Redford as the legendary bank-robbing duo. The 1969 film won't win any awards for its 1080p release, but proud papas will appreciate the blockbuster action and extras that include a commentary track from director George Roy Hill and a documentary on the real historical figures.
Clint Eastwood Collection (Warner Home Video, rated R, $149.99) — Movie legend Clint Eastwood also turned out to be a first-class director. This Blu-ray collection highlights not only his work in front of the camera, but behind it as well. All presented in high definition, standouts among the 10 movies include the brutal "Unforgiven," the unexpected "Gran Torino," the heartbreaking "Million Dollar Baby" and "Absolute Power," which finds Mr. Eastwood playing a cat burglar trying to reconnect with his estranged daughter and in trouble for witnessing a president's deadly encounter.
"Supernatural": The Complete First Season (Warner Home Video, not rated $49.99) — Sam and Dean Winchester are brothers in search of their missing dad who has spent his life hunting paranormal entities and his wife's killer. The first year of the WB's popular television show is now on Blu-ray with 22 episodes and a great interactive road map to learn about all of the creepy urban legends the boys battle on their journeys.
"Family Guy": Volume 8 (20th Century Fox Home Entertainment, not rated, $49.98) — It's everybody's favorite animated, dysfunctional family led by daddy Peter Griffin in this latest collection of 15 uncensored episodes of pop-culture chaos. Within three DVDs, viewers are bombarded with sophomoric hijinks, triple entendres, smatterings of perfectly placed profanity and a potpourri of potty humor, making the set perfect for the typical adult male in the family. Also, Seth McFarlane and his gang of loons offer a commentary track on many of the episodes.
For gift givers with a bit more cash, the PlayStation 3 (Sony, $299, includes 120-MB hard drive and one Dualshock 3 wireless controller) not acts as a Blu-ray/DVD player and one powerful video gaming system.
Here are some suggestions for a video-game fix for the patriarch in the family:
Shrek Forever After (Activision, rated E10+ for players 10 and older, $49.99) — Dad and three of his offspring can become part of the green ogre's virtual universe as they battle the forces of Rumpelstiltskin. This third-person adventure features a painless drop-in/drop-out cooperative mode for four players who choose to control Shrek, Donkey, Fiona (in warrior garb, no less) or Puss in Boots, along with plenty of action, puzzle solving and laughs. Be it visiting a dragon's lair to outwit the Fairy Godmother and her laser mazes, visiting the ogre camp for upgrades, or rocking out to pop songs from the Shrek films during battles, it's a happy ending for the entire family.