Thanks to the proliferation of film, comic-book and cartoon characters, companies are bombarding consumers with an incredible selection of action figures. With tongue in cheek, let's take a peek at some of the specimens worthy of a place in Zad's Toy Vault.
B.A. Baracus
A famed team of mercenaries returns to toy shelves with Jazwares' selection of A-Team action figures. Based on the current 20th Century Fox movie — not the 1980s television show the collection includes multiarticulated, 3-inch versions of Col. John "Hannibal" Smith, Capt. "Howling Mad" Murdock, Lt. Templeton "Faceman" Peck, Col. Lynch and one big sergeant with a "bad attitude" named Bosco Baracus.
Figure profile: From the packaging — This extraordinarily skilled mechanic can, on the fly, create highly functional machinery out of ordinary parts. He also is a skilled fighter who "brings it" when it comes to hand-to-hand combat. He has a very short fuse, so do not get him angry. He fears no one and nothing — except getting on a plane.
Accessories: With 14 points of articulation, our muscle-bound dude sporting a modified mohawk not only looks like his acting counterpart, Quinton "Rampage" Jackson, but also wears some fairly detailed clothes.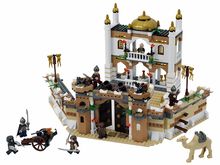 Specifically, while his garb and on-body accessories are not removable, the hard plastic includes details such as sunglasses hanging down his crinkled T-shirt (with an intricate screw emblem design), a hanging dual holster over his neck, identifiable bicep tattoos, a belt and buckle, acid-washed jeans and work boots.
He holds an assault rifle and pistol made out of soft plastic, definitely built not to poke out an eye.
Owners also will want to grab the other 3-inch stars (though Bradley Cooper's sculpt looks a bit like Seth Green) to complete the fun, as well as the in-scale black GMC van ($29.99, requires two AA batteries) to help the play potential. The vehicle won't impress — there's no easy access for the figures, and the tricky removable side door panel doesn't stay on very well.
In fact, the original A-Team van, released by Galoob in the 1980s, is a much more functional play set, sporting a removable top, equipment storage area, road signs and extra B.A. (Mr. T to a "T") figure.
Jazwares' new van does go a bit high-tech with sound effects (screeching tires and gunfire), dialogue snippets ("What's up girls, ya miss me? Cause I miss you. Way too long, baby") and working headlights, triggered by a button on a rear side panel.
Price: $6.99
Play potential: I'm sure kids would give up some of the sculpting detail on B.A. if they could use the holster to store the pistol or get access to the other holstered gun.
Read all about it: IDW Publishing offers the four-issue limited series A-Team: Shotgun Wedding ($3.99 each or $17.99 for the trade paperback) which acts as a prequel to the film and co-stars the writing talents of Chuck "G.I. Joe" Dixon.
What's it worth? Excellent sculpts of the characters combine with enough weapons and posability to keep junior soldiers of fortune happy. But let's cut the jibba-jabba, fool; the big problem is the toys target boys 8 to 10 years old and the movie is rated PG-13. Sounds like a tough sell for Jazwares until "The A-Team" arrives on DVD or cable, allowing junior to sneak a peak at his new heroes in action.
Pop vault