The District is in such dire financial straits — one city lawmaker characterized it as a "crisis" — that officials are considering cuts to such sancrosant agencies as public safety and schools to ward off a growing fiscal 2011 deficit and a looming $345 million budget gap in 2012.
Social service programs and other discretionary spending face some trimming, but funding cuts in schools and public safety are inescapable, at-large D.C. Council member Michael A. Brown said.
"We have to look at programs that traditionally are not on the table," Mr. Brown told The Washington Times. "Police, fire and schools. These are agencies that haven't traditionally been on the table."
By law, the city must establish and sustain a balanced budget and Mayor-elect Vincent C. Gray has promised a hard line against new taxes, which means the District will have to come up with major spending cuts quickly.
"This is a crisis situation," said Council member Jim Graham of Ward 1, a minder of the city's safety net and usually an opponent of cutting social services. "We have to consider everything."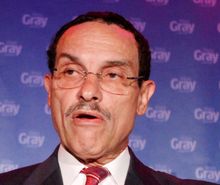 Their comments followed Mr. Gray's announcement Monday that the budget deficit had grown from $175 million in September to $188 million.
In his road map detailing the budget woes, Mr. Gray twice targeted special-education funding: One bulleted item cited $31.7 million in cost overruns, and the other listed $10.1 million in unbudgeted raises and rent-cost overruns.
In the area of public safety, lawmakers cited overtime costs as a long-standing budget breaker, and said that lax internal-spending controls at various agencies put pressure on the city's finances. The Fire and Emergency Medical Services Department, for example, overspent its overtime budget by nearly $9 million in fiscal 2008, $7.2 million in 2009 and $4 million this year.
But spokesmen for the city's fire and police unions immediately criticized cuts in public-safety spending and suggested other places to find savings.
"I still do not understand how they are going to explain to the public that they're going to have to be less safe," said Kristopher Baumann, head of the union that represents Metropolitan Police officers. He said budget cuts that lead to fewer officers will mean less community policing and more crime.
"We're going to have different expectations and a different vision about the way we police," he said.
Mr. Baumann said excessive social service spending should be trimmed and fiscal accountability should be increased before anyone considers cutting public safety spending.
"That's not good government. They keep saying we're down to the bone but we're not even through the meat yet," he said.
Ray Sneed, president of the D.C. Firefighters Association, said he understands that "everyone is going to have to be held accountable" but that he thinks union officials should be consulted on the cuts.
"Hopefully, they go back and evaluate the budget and they won't need to have to cut police or fire," he said. "But if cuts need to be made, let us have the opportunity to sit at the table and be a part of the decision-making process."