RENO, Nev. | Owners of the Lake Tahoe-area ski resort that hosted the 1960 Winter Olympics have agreed to sell Squaw Valley USA to a Colorado-based investment firm that's pledging $50 million in improvements over the next five years, company officials said Tuesday.
KSL Capital Partners LLC entered into the agreement to acquire the majority of the shares of the Squaw Valley Development Co. in a deal that includes the California resort's ski operations, the Village at Squaw Valley and related real estate holdings, Squaw Valley President and CEO Andy Wirth told the Associated Press.
Mr. Wirth said the sale price won't be made public, but he confirmed in an interview with AP early Tuesday that KSL agreed to $50 million in capital improvements over three to five years at the resort atop the Sierra Nevada, about 40 miles west of Reno.
Eric Resnick, KSL's co-founder and managing director, said the Denver-based firm specializing in travel and leisure was enticed by the history and future potential of what has become one of the largest and best known ski resorts in the world since it opened in 1949.
Its founder, Alexander C. Cushing, was credited with helping launch skiing and other winter sports in the U.S. by landing the 1960 Games.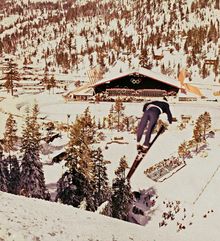 "With Squaw Valley USA, Alex Cushing made a profound impact on the snow-sports industry and we're honored to build upon the resort's legacy," Mr. Resnick said in a statement.
KSL's properties include Vail Mountain Lodge in Vail, Colo., the Homestead in Hot Springs, Va.; Barton Creek Resort and Spa in Austin, Texas; and Hotel del Coronado in San Diego.
"It has lost some of its presence, lost some of its position," Mr. Wirth said about increased competition in the form of recent capital improvements at other area resorts. "We are determined to make it again one of the best if not the best."
Squaw Valley, with a vertical drop of 2,850 feet, covers parts of six mountain peaks over 4,000 acres — some of it with views of Tahoe's north shore about 8 miles away. Skiers walk into the resort under the same Olympic rings that greeted Olympians at the first Winter Games ever televised in 1960.
Mr. Wirth said the $50 million in improvements planned at Squaw Valley is an "impressive number" that will be spent on "culinary services, food and beverage, guest experiences — everything from the lift operations and ticket checkers to the staff in the parking lot."
A heavy emphasis will be placed on enhanced snow making, grooming and snow surface quality, as well as improving offerings for families, including ski schools and child care programs.