Mary Welch will arise Christmas morning, serve a nice brunch, replete with mimosas and sweetbreads, and settle in with family for a viewing of the holiday comedy film "Elf."
But there will be no presents. At her order.
Welcome to the ho-ho-ho season where frugality and practicality remain the new norm. The recession that crippled the past two years of holiday shopping has abated, and consumers are shopping a bit more, researchers say, while looking for the best deals amid worries that a full-scale economic recovery is not here.
"How many times do you stand in a store and overhear people complaining about how hard it is to buy a gift for a person? Theyre so grumpy about giving," said Ms. Welch, a Lansing, Mich., assets manager.
"I just want people to be happy and not put themselves in debt, so I stopped the gifts," added Ms. Welch, 38 and a mother of three. "When people are insistent on getting me something, I tell them about a charity I support."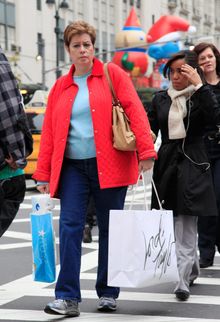 The National Retail Federation in Washington predicts shoppers plan to spend, on average, $688 this year, up only $7 from the $681 they spent in 2009.
"Consumers will still shop with the economy in the back of their minds, but we're starting to see shoppers take baby steps toward a new normal," NRF President Matthew Shay said in a statement. "As Americans open up their wallets for more discretionary gifts like jewelry or take advantage of sales to buy for themselves, retailers will begin to truly believe that the worst may be behind them."
Some are using the tighter economic climate to be more inventive this year.
Andy Grieser, a writer and editor based in Denton, Texas, calls his family's holiday plan "more personalized and low-key."
With a son born prematurely weeks ago, a sister in the Air Force who just moved to Alaska, Mr. Grieser said his mother came up with the idea that "we're going to do stuff this year instead of giving stuff." That may mean future baby-sitting offers and a date night out for him and fiancee Laura Knowles, he said.
"Instead of the usual family gathering, where we exchange electronics and stacks of books, this year we're going inexpensive and creative," drawing on each other's talents, Mr. Grieser added, noting that his brother is a chef and his brother-in-law a painter and sculptor. Their new gifting plan, he said, just "seemed fitting."
Still, retailers are as reliant as ever on Black Friday — the day after Thanksgiving that traditionally marks the start of the Christmas season — and so they have to pack them in. Indeed, Black Friday and the associated first-thing-in-the-morning frenzy has been increasingly been pushed back in the calendar, and not just by retailers opening at hours like 3 a.m. and 4 a.m.
Most Best Buy, Macy's, Wal-Mart, Kmart and Sears stores nationwide will be open on Thanksgiving Day. On Black Friday itself, Wal-Mart has promised to match its rivals' advertised prices.
One major chain not open on Thursday, Toys 'R' Us, will counter with late-night deals Thursday and stay open all the way through closing on Friday. Target got a jump on Black Friday with a four-day sale that began Sunday, and Kmart and Sears have been running, respectively, "Better Than Black Friday" and "Black Friday Now" deals on select days since the start of November.
Ann Mack, the director of trend-spotting at advertising agency JWT in New York City, reports signs of life in consumer purchasing, according to research conducted by her firm.