BAODING, China | The more he heard about the person accused of killing his 20-year-old daughter in a drunken hit-and-run, the more terrified Chen Guangqian became.
The suspect's father is a high-ranking police officer. In a country where fear of the police runs high, the 49-year-old farmer decided there was no point in fighting.
"I'm just a peasant," he said in an interview. "If it's unfair, let it be."
But an angry public overruled him. The hit-and-run last month has crystallized popular outrage at China's powerful elite and the arrogance of some children of money and power.
"My father is Li Gang!" the driver reportedly shouted when a crowd stopped his car, referring to the deputy chief of the local district police.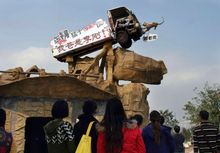 The comment, which was reported in the media, exploded on the Internet, becoming the country's newest catchphrase. An online contest challenged people to work "My father is Li Gang" into classical poetry. One artist used the phrase as the centerpiece of a towering art installation.
On the night of Oct. 16, a car struck first-year student Chen Xiaofeng on a Hebei University campus. Li Qiming, 22, is accused of driving under the influence of alcohol, hitting Miss Chen and driving away.
Six days later, state broadcaster China Central Television (CCTV) aired an unusual pair of interviews with Mr. Li and his father. Both of them wept and apologized. The senior police officer bowed in front of the camera for half a minute, until the reporter helped him up.
"I will not shield my child," the elder Mr. Li said.
Zhang Kai, a Beijing-based human rights lawyer who has taken up the Chen case, questioned the motive behind the interviews and whether Deputy Chief Li Gang used his influence to make them happen.
On his blog, Mr. Zhang also asked how CCTV, as the broadcaster is known, was able to interview the son, saying Chinese law allows only police, prosecutors, legal workers and lawyers to enter a detention center.
Chen Guangqian, the victim's father, has not been interviewed by CCTV.
"CCTV only cares about the upper class and not us victims," Mr. Chen said. "If they found and talked to Li Gang, then they should have found and talked to me, too."
Many in China are cowed by police power, and no witnesses have come forward in response to a plea from Mr. Zhang, even though photos show dozens at the scene.
"Nobody dares speak out" except on the Internet, the lawyer said.