BANGKOK | At least 44 people have been killed in the strengthening eruptions of Indonesia's Mount Merapi volcano, forcing more evacuations as volcanic ash settled onto populated areas 150 miles away.
Mount Merapi shot plumes of ash high over Java, while its lava seared the earth and entombed people, animals and crops, making it impossible to reclaim farmland on its southern slopes.
"What we can consider for now is that those farming fields would not be able to be planted with crops for the next 10 years," said Sultan Hamengkubuwono, governor of Yogyakarta.
Merapi is one of Indonesia's most active volcanoes and peaks menacingly 17 miles north of Yogyakarta, a major city and site of the Merapi Volcano Observatory.
The relatively young volcano threatens one of the world's most densely populated areas, 500 miles southeast of Indonesia's capital, Jakarta. President Obama is scheduled to visit Indonesia next week on a 10-day tour of Asia.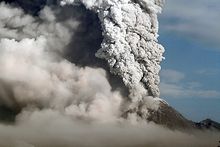 Residents on Thursday continued to flee on foot, in vehicles and by motorcycles. Many wore cotton masks to protect against toxic gases.
More than 47,000 other people who dwell on Merapi's southern slopes have become "internally displaced people," the Health Ministry said.
Plumes rose like misshapen mushroom clouds 10,000 feet into the sky.Wilting trees and other vegetation were cloaked in heavy gray dust, which also covered buildings, cars and anything else outdoors.
The 9,616-foot-tall volcano is on central Java island, midway between Singapore and northwestern Australia.
Its biggest recorded eruption, in 1930, killed 1,370 people.
In 1994, its fiery cone snuffed the lives of 66 villagers. In 2006, two people perished from Mount Merapi's spewed debris.
The volcano's most recent activity began Oct. 26 and intensified quickly with ferocious belchings of sulfurous smoke, hot ash and rocks.
Volcanologists fear that a new lava dome in the mouth of Merapi's volcano will collapse and release a 1,800-degree pyroclastic flow rushing down the mountainside at 60 mph.
Aviation monitors, air-traffic controllers, pilots and others were determining how to reroute aircraft that usually pass over or near central Java. Some regional flights to and from Yogyakarta have been canceled or rerouted, while others have been advised to fly at a minimum altitude of 11,000 feet.
Meanwhile, Qantas grounded its Airbus A380 fleet after one of the superjumbo jets blew out an engine Thursday, shooting flames and raining large metal chunks before making a safe emergency landing in Singapore with 459 people aboard, the Associated Press reported.