Hollywood honor
"It was inevitable. Given the increasing pressure on liberals, especially artists and writers, including Jewish artists and writers, to prove that they have the right/left politics — properly pro-Palestinian, anti-Israel, anti-Judaism, and anti-American — Hollywood is giving an Honorary Academy Award to French filmmaker Jean-Luc Godard, an historically important director but a raving and unapologetic anti-Semite, a man who is obsessed with the Jews.
"Godard has called a reputable French producer a "dirty Jew; Francois Truffaut broke with him over this as did Claude Lanzmann, the great French documentarian of the Holocaust ('Shoah'). Godard has also described Israel as a 'cancer on the map of the Middle East'; visually, in paired flickering images, has compared Golda Meir to Hitler in one of his films; defended the 1972 Palestinian terrorist massacre of Israeli athletes in Munich and suggested that an image of the Palestinian camps should be 'broadcast before every Olympics finale.' …
"In other words, Godard, in both his films, and in interviews, is an out-of-control racist and he has wielded his considerable cinematic talent and influence to legitimize a far less talented industry of exterminationist propaganda against the Jews and Israel."
— Phyllis Chesler, writing on "And the Oscar Goes to … Racist Jew-Hater Jean-Luc Godard" on Oct. 31 at NewsRealBlog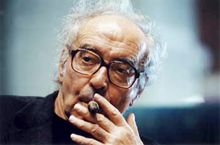 Comedy party
"Once upon a time jesters courted kings. Now enfeebled kings court jesters. Panting after the approval of the smug comedian Jon Stewart, Barack Obama taped an interview for 'The Daily Show' on Wednesday. …
"It is notable that the Democratic Party is now led in large part by comics. Stephen Colbert testified before [Nancy] Pelosi's Congress as an honored guest; 'SNL' alumnus Al Franken sits in the Senate; comedienne Joy Behar vets presidential candidates on 'The View'; and Bill Maher is treated like Mark Twain.
"Had Joy Behar lived a century ago, she would have been a lewd barmaid somewhere. Now she is an important Democratic 'opinionmaker,' browbeating this or that public figure. She stomped off the set in an elephantine huff the other week after Bill O'Reilly failed to pay sufficient homage to Islam. … One wonders how long Behar would avoid a stoning if she ever talked like that in Saudi Arabia. The ladies of The View are lucky the show is not shot in Riyadh."
— George Neumayr, writing on, "Jon Stewart's Comic Relief 2010," on Oct. 28 at the American Spectator
'Mick' vs. Keith
"But let me ask you to imagine yourself, as I was, unimaginably, partnered with [Keith Richards] the writer of 'Satisfaction,' 'Paint It Black,' '19th Nervous Breakdown,' 'Honky Tonk Woman,' etc. And then imagine that your partner, seemingly overnight, lost some essential part of his talents. Not, as is commonly supposed, sometime perhaps in the 1980s, when the Rolling Stones' decline in creativity was on obvious display, but earlier. A lot earlier. Like, say, 1972 at the latest. …
"The next few years were difficult. I don't want to say Keith wrote no songs. He did. But successively, in each album, the process became more difficult, as both his capacity for the job declined along with the quality of what he did write. … And for some of the good stuff Keith wasn't even there. For 'It's Only Rock and Roll' I did the title single with [Ron Wood] and [David] Bowie. [Mick] Taylor and I constructed the splendid 'Time Waits for No One,' a fantasia, alluring to this day, for percussion, piano, and guitar. (I don't think Keith has ever let us play it live.) …
"I will testify that Keith was intermittently sentient during some part of the recording of 'Some Girls.' … The geographic location of Keith's talent, being nowhere, wasn't available for evocation."
— Bill Wyman, writing in the persona of Mick Jagger, on "Please Allow Me To Correct a Few Things" on Nov. 5 at Slate