CALIFORNIA
Regulator leaves alone biggest safety violator
SAN FRANCISCO | A review of public records shows the agency responsible for regulating public utilities has taken a mostly hands-off approach to violations by Pacific Gas and Electric Co.
The San Francisco Chronicle reported Sunday that even though PG&E had more pipeline infractions than the rest of the state's major pipelines combined over a six-year period, the California Public Utilities Commission did not levy a single fine on the utility during that period.
The newspaper says its review of CPUC records found that PG&E accounted for almost 60 percent of the probable violations of federal safety laws found by regulators between 2004 and 2009.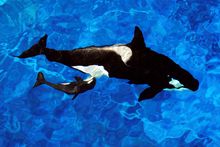 The report comes after word that a CPUC panel will review last month's PG&E pipeline blast in San Bruno that killed eight people.
FLORIDA
Killer whale calf born at SeaWorld
ORLANDO | A killer whale has given birth to her seventh calf at SeaWorld Orlando.
A 34-year-old killer whale named Katina gave birth Saturday night. Park officials say the baby is 7 feet long and weighs 350 pounds. It's the 16th born at SeaWorld Orlando.
Park spokesman Nick Gollattscheck says the sex of the calf won't be known for some time. Veterinarians are monitoring the whales to make sure both are healthy.
The calf's birth is good news for the central Florida theme park. Necropsy results are pending for the first of Katina's calves, Kalina, which died suddenly at age 25 on Monday. The new calf's father is Tilikum, a 12,000-pound whale that drowned a SeaWorld trainer in February.
NEVADA
10-10-10 inspires run on weddings
LAS VEGAS | Churches, banquet halls and other wedding venues across the country were extra busy Sunday as couples seeking a perfect 10 rushed to tie the knot on a once-in-a-century milestone: Oct. 10, 2010.