Democrat Alex Giannoulias, in a battle for a Senate seat in Illinois, reasserted his commitment Sunday to advance progressive politics in Washington if elected while trying to distance himself from those same policies, which President Obama has used with limited success in his first two years.
Mr. Giannoulias, the Illinois state treasurer, acknowledged during a debate on NBC's "Meet the Press" that he plans to lead a progressive caucus in Congress and said, "If more stimulus means more more tax cuts, … then I'm for it."
He is locked is a tight race with Republican Rep. Mark Steven Kirk for the seat once occupied by Mr. Obama. Polls have the candidates essentially separated by less than 2 percentage points.
Mr. Giannoulias said throughout the roughly 30-minute national debate that the administration's economic recovery plan was "not perfect" and that the bank bailout included "missed opportunities" and needed "more oversight."
Both candidates coolly stated their positions and attacked their opponent in a race marked by inconsistencies and attacks that highlight each other's missteps.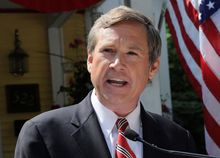 Mr. Kirk acknowledged that he misrepresented his military career, while Mr. Giannoulias still could not provide a clear answer about whether he knew his family's failed community bank made loans to convicted criminals.
However, when Mr. Kirk, in his fifth House term, said he has evolved into a fiscal hawk, Mr. Giannoulias replied, "He's told some whoppers, but this may be the biggest of then all."
Though winning the seat is crucial in the Republicans' effort this year to retake control of the Senate, political analysts see the race as a referendum on the president and his administration.
Chuck Todd, NBC's political director and chief White House correspondent, said before the debate that a Republican winning the seat would be the "ultimate repudiation for a somebody who once held the Illinois Senate seat and now sitting in the Oval Office."