OSH, Kyrgyzstan (AP) — Voters turned out in force Sunday to choose a new and empowered parliament that the government hopes will usher in a new era of democracy in Kyrgyzstan after two presidents were ousted by street protests.
Kyrgyzstan, which hosts a vital U.S. air base near Afghanistan, is set to embrace a parliamentary system of governance in a vote that has won praise from the United States.
A fair vote among the 29 competing parties and the creation of a strong legislature would set Kyrgyzstan apart from the other former Soviet republics in Central Asia, where power usually is held by authoritarian leaders. A democratic Kyrgyzstan also could be expected to create a sense of unease in the neighboring countries and encourage the development of democratic ideals.
Security has been tightened for the vote in a bid to prevent any possible outbreaks of unrest.
After casting her ballot in the capital, Bishkek, President Roza Otunbayeva said she was confident the vote would proceed without incident.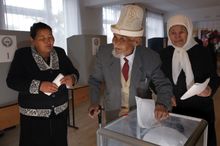 "The whole election process has been transparent and open, which will deprive troublemakers of the right to whip up political hysteria," she said.
The vote comes after an exhausting year of political turbulence and ethnic violence in the south. All eyes are on the southern cities of Osh and Jalal-Abad, where violent clashes between ethnic Kyrgyz and minority Uzbeks in June left more than 400 people dead, most of them Uzbeks, and displaced around 400,000 people.
The election marks a sharp departure from the strongman model exercised under President Kurmanbek Bakiyev, who was ousted in April amid violent public demonstrations over stagnant living standards and corruption.
Mr. Bakiyev came to power in 2005 following street protests known as the "Tulip Revolution."
Heading to a polling station at the agriculture institute in Osh, 49-year-old history teacher Ermek Suleimanov said the vote was a turning point for the country.
"If, in the past, voting was just a formality, now we will find out who the people really want to lead them," Mr. Suleimanov said.
Truckloads of police drove into Osh throughout the night before the elections, boosting the presence of security forces in the city.
In the ethnic Uzbek suburb of Sharq, a steady flow of voters headed to a polling station Sunday morning on the site of a school burned down during the riots.
"The elections are going on peacefully. The police are here to make sure everything goes calmly so people can pick a party that will give them peace," said Lola Shermetova, an ethnic Uzbek campaign worker for the Ar-Namys party, which has campaigned on a law-and-order ticket.
International observers earlier worried that persisting tensions in the south could discourage many in the ethnic Uzbek community from casting their ballot. By the early afternoon, almost one-third of voters had turned out in Osh, indicating lively involvement in the poll.