GOLDENDALE, Wash. | Steve Sall moved forward on uneven, rocky terrain in his motorized wheelchair and came to a stop at the edge of a sweeping vista of ponderosa pines and bright pockets of yellow wildflowers.
He wanted to see the canyon he used to hike before Lou Gehrig's disease left him near death. Three months later, Sall, 61, was laid to rest in the forest.
He would be among the small but growing number of Americans choosing environmentally friendly burials. The so-called "green burials" are departures from the norm in that they don't use concrete vaults, metal coffins or any chemicals.
The Green Burial Council, an industry group that sets standards, now counts more than 300 approved providers in 40 states, while only a dozen existed as recently as the beginning of 2008.
A survey in March commissioned by the International Cemetery, Cremation and Funeral Association found a quarter of those polled liked the concept of environmentally friendly burials.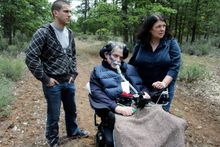 "We think of this as a new idea, but this is really an ancient idea we're returning to," said Joe Sehee, executive director of the New Mexico-based council.
A burial in the wilderness was especially appealing to Sall after spending so much of his life hiking mountains and forests across the Pacific Northwest. He was also heavily involved in his son's Boy Scout experience, often accompanying the troop on nature excursions.
As Lou Gehrig's disease advanced earlier this year, Sall knew it was time to consider end-of-life logistics. He thought about cremation, but didn't like the idea of pumping gases into the atmosphere, said his son, David.
Sall began researching green burials on the Internet, eventually finding the website for the White Eagle Memorial Preserve, a natural burial grounds about 15 miles from the small town of Goldendale.
For a few moments in June, Sall was outdoors again, the forest before him. From his wheelchair, he spotted a ponderosa pine he liked with a surrounding meadow and his heart was set.
Sall communicated by pointing a pencil to a laminated piece of paper with a grid full of letters and conjunctions. His wife and son had become practiced at translating his thoughts over the course of his debilitating illness.
"I have been a hiker and a climber, as we drove in I felt very comfortable, like going home," he said, communicating through his wife.
The Salls bought two plots — one for Steve and one for his wife, Teri — for about $4,800. Sall died in September.
"I know that Steve loves nature so much," Mrs. Sall said at the time of picking his plot. "Having him rest somewhere in a place that he loves more than, you know, a cemetery that's kind of sterile and has sad things associated with it, just seemed like the thing to do."
"I like my decayed remains to be sucked up by a tree," Sall joked, after picking his site. "I call it 'branching' out."