ULTIMATE PRICE FOR PEACE
In 1968, Michael Oren met a man who inspired the 13-year-old Jew from upstate New York to devote his life to Israel.
"As a teenager, while visiting Washington with a Jewish youth group, I was introduced to Israel's ambassador to the United States. Along with my peers, we applauded him until our hands were numb, sang 'Shalom Aleichem' ['Peace be upon you'] at the top of our voices. And silently I said to myself: 'That is what I want to be when I grow up, Israel's ambassador to America,'" Mr. Oren said Wednesday as he remembered that encounter, having achieved his diplomatic goal last year.
The ambassador at the time was the legendary Yitzhak Rabin, a military hero of the struggling Israeli state in 1948 and prime minister in 1993, when he signed the historic Oslo Accords peace agreement with now-deceased Palestinian leader Yasser Arafat at the White House.
Mr. Rabin was assassinated two years later on Nov. 4, 1995, by an Israeli extremist, Yigal Amir, who opposed the Oslo agreement.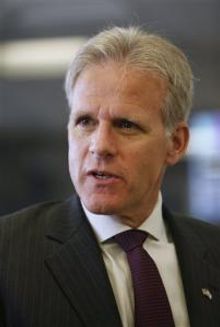 Reflecting on the upcoming 15th anniversary of his death, Mr. Oren this week praised Mr. Rabin as his "first role model" and a man of peace who paid the "ultimate price."
"Rabin paid the ultimate price for his dream of peace, but that dream remains his legacy, inspiring us to this day," he said.
Earlier this week, Mr. Oren warned that Israel will not cave in to pressure to redraw its borders to the indefensible boundaries of 1967 before the Six-Day War, when Israel gained the Gaza Strip, the Sinai Peninsula, the West Bank, East Jerusalem and the Golan Heights.
"Today Israel is blessed with principled and courageous leadership," Mr. Oren said at an event at the U.S. Chamber of Commerce marking the 25th anniversary of the U.S.-Israeli free trade agreement.
"While facing terrorist groups sworn to destroy every last one of us — women, children, senior citizens — and some 60,000 Hamas and Hezbollah rockets pointed directly at our homes; with so-called human rights organizations and boycott movements and campus coalitions denying our right to defend ourselves and even our right to exist, and with Iranian leaders swearing to wipe us off the map and striving to produce the nuclear means for doing that — with all of those challenges, the Israeli government under Prime Minister Benjamin Netanyahu has not for a nanosecond reduced its commitment to peace," Mr. Oren declared.
"But not a peace at any price. Not a peace that will impair Israel's security or impugn its identity as the nation state of the Jewish people."
IRISH GREENING D.C.
Irish diplomats aren't waiting for St. Patrick's Day to spread the green throughout Washington. Ambassador Michael Collins will host a press conference Friday to promote a project to plant trees along Massachusetts Avenue, the historic Embassy Row in the nation's capital.
"The event is an example of how foreign missions and U.S. neighbors are working together for a greener city," an embassy spokesman said in announcing the 10:30 a.m. ceremony at the embassy at 2234 Massachusetts Ave. NW.
The embassy is partnered with a community group, Restore Mass Ave, in the sixth annual tree-planing along the broad, shady street that includes dozens of diplomatic missions and the vice president's residence at the Naval Observatory. Casey Trees, a D.C.-based nonprofit, provided the 18 Valley Forge elms and tulip poplars that will bring to 96 the total planted along Massachusetts Avenue.