Hippie hate
"A three-disc edition of Apocalypse Now hits Blu-Ray this week, and one of the special features is the conversation between director Francis Ford Coppola and writer John Milius, who adapted Joseph Conrads 'Heart of Darkness' for the screenplay.
"Here Milius tells Coppola the origin of the title 'Apocalypse Now.' Basically, Milius hated hippies, so he took their common button or jacket patch, a peace sign that said 'Nirvana Now,' and added a few lines so that it looked like a B-52 and said 'Apocalypse Now.' I dont know about you, but [I love] seeing a dude who looks so much like Walter Sobchak from 'Big Lebowski' talk about hating hippies."
— Vince Mancini, writing on "John Milius explains 'Apocalypse Now,' his hatred of hippies," on Oct. 18 at Filmdrunk
Religious Men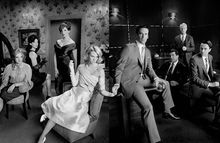 "Religion never registered in this season's installment of 'Mad Men.' It didn't need to. The implications of faith, morality and Protestant privilege echoed through the episodes, delineating expectations about work and family, gender roles and even child-rearing. … Key among these sacred cows was the assumption — or, more pointedly, the implicit article of faith — that everyone and everything had a preordained place in the divine scheme of things. … For generations of American Protestant men who had understood themselves to be God's Chosen Ones, the implications were clear: white men rule.
"But by the mid-60s, that comfortable consensus was cracking. Barriers dramatically fell in seemingly insignificant contexts: a seat on the bus, an oral contraceptive, a 'raggedy-ass' country in Southeast Asia. Suddenly, even the smallest acts had consequences — a theme that 'Mad Men' creator Matt Weiner explained as central to the show.
"In 1960, Don Draper never seemed fully comfortable with Rachel Menken, the Jewish department store heiress with whom he had an affair. Seeing her as another 'Other,' his uncomfortable kinship climaxed with a surprising proposal that they run away together. But five years later, Faye Miller's Jewish identity barely rates a mention. When she compliments Don's handsome punim (Yiddish for "face"), Don barely arches an eyebrow."
— Diane Winston, writing on "Mad Men, Mad World" on Oct. 18 at the Scoop
Paper cuts
"From this perspective, genre survives — and thrives — because its point of departure is not an attempt to conjure a reflection of the world so much as an attempt to tell a story within shared conventions. But other modes are at the mercy of what Gough calls 'a crisis in the individual.' The internet and new media, he argues, 'make it explicit that were a tiny part of a huge pattern. You can now see how your thoughts are not entirely your own, but part of a flow back and forth of thoughts moulding each other and fighting for survival — which is very destabilising.' …
"Storytelling is among the most ancient of arts. It is also a communal experience. Today, in an age of collaborative media, most of our grandest, most popular narratives are the products of team efforts: from sprawling television dramas like 'The Sopranos' to the latest Hollywood movies or hit videogames. Authors, too, are beginning to construct stories along these lines.
"The American science fiction maestros Greg Bear and Neal Stephenson recently launched an online narrative world called the Mongoliad which readers pay a subscription to access. Its something that, Bear told me, 'puts the reader directly in touch with the creators, on a continuing basis … plus giving readers unprecedented access to our day-by-day process of researching, rehearsing and writing.' In whole fields of discourse, from politics to academia, the very notion of a book — a static, authored, discrete hunk of prose — is starting to seem quaint."
— Tom Chatfield, writing on "Do writers need paper?" on Oct. 20 at Prospect