REVAVA, West Bank | The American president was pushing hard for a Mideast peace agreement when six Jewish families arrived on this West Bank hilltop early one morning with cribs, refrigerators, Israeli flags and flatbed trucks carrying mobile homes.
White House condemnation came quickly: "Settlements are an obstacle to peace, and their continuation does not contribute to the development of a peace process, which we have all been working toward."
It was April 16, 1991, and it was the first Bush administration.
Since then, peace talks have started, stopped, restarted, and now it's President Obama's turn to feel frustrated.
Last week, Israel ended its temporary settlement freeze, Palestinians threatened to quit the talks Mr. Obama has brokered, and settlers were celebrating in Revava, where those first trailers have been replaced by red-roofed suburban homes, and six families have become 250.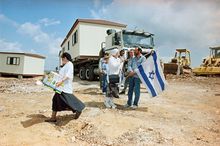 The story is the same across the West Bank, where settlements have evolved from tenuous Jewish footholds into a massive presence across the hilly country that Israel captured in the 1967 war and that Palestinians want for their own state.
They have grown steadily through years of international condemnation, diplomacy, periods of violence and negotiations. They have often expanded as a direct protest against negotiations and the possibility that an Israeli government might uproot them.
In 1991, when the first Bush administration was coaxing Israelis and Palestinians to the negotiating table, 90,300 Israelis lived in settlements across the West Bank. Today, there are 300,000 — and their population is growing by 5 percent a year, more than 2½ times the growth rate inside Israel.
The settlements themselves, ranging from small cities to isolated enclaves, take up just 1 percent of the area of the West Bank, according to government maps analyzed by Israeli human rights campaigners.
But their impact is much greater than that number would suggest; the settlements and their access roads form a web of Israeli control that Palestinians say rules out any chance of viable statehood.
Nowhere is the expansion — and its interplay with the politics of peacemaking — more apparent than at Revava.
When those first families arrived on this rocky hill next to the Palestinian village of Kifl Hares, President George H.W. Bush's secretary of state, James A. Baker III, was en route to Israel on a round of shuttle diplomacy.
One settler leader, Daniella Weiss, told the Associated Press at the time that they had "hurried the decision" on Revava to undermine Mr. Baker's plans.
Government permits had been issued, and the land, settlers said, had been quietly purchased from local Palestinians.
The Israeli government was led — as it is now — by the Likud Party, historically a champion of West Bank settlement, claiming the territory as part of the biblical Land of Israel promised by God and as indispensable to Israel's security.