BUXTON, N.C. (AP) — The last ferry left for the mainland and coastal residents hunkered down at home as Hurricane Earl closed in with 115 mph winds Thursday on North Carolina's dangerously exposed Outer Banks, the first and potentially most destructive stop on the storm's projected journey up the Eastern Seaboard.
The hurricane's leading edge brought on-and-off light rain in the afternoon to the long ribbon of barrier islands, which were likely to get the full brunt of the storm around midnight.
Earl's arrival could mark the start of at least 24 hours of stormy, windy weather along the East Coast. During its march up the Atlantic, it could snarl travelers' Labor Day weekend plans and strike a second forceful blow to the vacation homes and cottages on Long Island, Nantucket Island and Cape Cod.
It was unclear exactly how close Earl's center and its strongest winds would get to land. But Federal Emergency Management Agency Administrator Craig Fugate said people shouldn't wait for the next forecast to act.
"This is a day of action. Conditions are going to deteriorate rapidly," he said.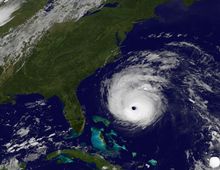 Shelters were open in inland North Carolina, and officials on Nantucket Island, Mass., planned to set up a shelter at a high school on Friday. North Carolina shut down ferry service between the Outer Banks and the mainland. Boats were being pulled from the water in the Northeast, and lobstermen in Maine set their traps out in deeper water to protect them.
As of Thursday afternoon, though, the only evacuations ordered were on the Outer Banks, which sticks out into the Atlantic Ocean like the side-view mirror on a car, vulnerable to a sideswiping. About 35,000 tourists and residents were urged to leave.
Earl weakened into a Category 3 storm with 115 mph winds on Thursday. A slow winding down was expected to continue as the storm moved into cooler waters, but forecasters warned the size of the storm's wind field was increasing, similar to what happened when Hurricane Katrina approached the Gulf Coast five years ago.
"It will be bigger. The storm won't be as strong, but they spread out as they go north and the rain will be spreading from New England," National Hurricane Center Director Bill Read said.
The eye of the storm was expected to pass about 50 miles southeast of Cape Hatteras, N.C. But even at that distance, Earl could have a punishing effect, since hurricane-force winds of 74 mph or more extended 70 miles from its center and tropical storm-force winds of at least 35 mph reached more than 200 miles out.
Hundreds of the Outer Banks' more hardy residents gassed up their generators and planned to hunker down at home behind their boarded-up windows, even though officials warned them that it could be three days before they could expect any help and that storm surge could again slice through the islands. It took crews two months to fill the breach and rebuild the only road to the mainland when Hurricane Isabel carved a 2,000-foot-wide channel in 2003.
"It's kind of nerve-racking, but I've been through this before," said 65-year-old Herma De Gier, who has lived in the village of Avon since 1984. De Gier said she will ride out the storm at a neighbor's house but wants to be close enough to her own property so she can quickly deal with any damage.
Forecasters said that after Earl passes the Outer Banks, a kink in the jetstream over the eastern U.S. should push the storm away from the coast, guiding it like a marble in a groove.
Earl is expected to move north-northeast for much of Friday, staying away from New Jersey and the other mid-Atlantic states, but also passing very close to Long Island, Cape Cod and Nantucket, which could get gusts up to 100 mph. The storm is expected to finally move ashore in Canada sometime Saturday afternoon.
Much of New England should expect strong, gusty winds much like a nor'easter, along with fallen trees and downed power lines, forecasters said.