LOS ANGELES (AP) — The mayor and ex-city manager of the scandal-plagued Los Angeles suburb of Bell were among eight current and former city officials arrested Tuesday in a corruption investigation.
The district attorney's office said several City Council members were taken into custody along with ex-city manager Robert Rizzo and Mayor Oscar Hernandez.
"This, needless to say, is corruption on steroids," District Attorney Steve Cooley said at a news conference in Los Angeles.
The district attorney, state attorney general and others have been conducting investigations of officials in the small working-class city since it was disclosed they were paying themselves huge salaries. Mr. Rizzo was making nearly $800,000 a year.
The investigations involve allegations of corruption, misuse of public funds and voter fraud in the city where one in six of the 40,000 residents lives in poverty.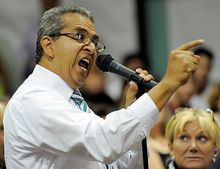 A message left at Mr. Rizzo's Huntington Beach home was not immediately returned.
Mr. Cooley said one arrest required authorities to use a battering ram.
The suspects were booked into county facilities and will be kept away from other inmates for their protection, Los Angeles County sheriff's spokesman Steve Whitmore said.
The arrests were the latest twist in a scandal that emerged in July with the disclosure that Mr. Rizzo was paid almost twice the salary of President Obama.
It also was revealed that former Police Chief Randy Adams was making $457,000 a year and Assistant City Manager Angela Spaccia was paid $376,288. Four of the five City Council members paid themselves nearly $100,000 a year for their part-time service.
Mr. Rizzo, Mr. Adams and Ms. Spaccia resigned, and the council members reduced their salaries to about $8,000 following the disclosures and angry public reaction. The four council members are currently the target of a recall.
Last week, Attorney General Jerry Brown sued eight current and former officials of Bell, accusing them of defrauding taxpayers by granting themselves salaries he said were far higher than warranted for the jobs they were doing.