SEOUL (AP) — North Korea's Kim Jong-il went public Tuesday with his plan to carry his family's communist dynasty into a third generation, setting in motion a succession program that could see a little-known, Swiss-schooled 20-something as the next leader of the nuclear-armed nation.
His youngest son, Kim Jong-un, was made a four-star general, state media said in Pyongyang before the nation's largest political convention in three decades. The news was buried near the bottom of a report released when most North Koreans were sleeping.
It was a quiet, somewhat inauspicious public debut for Kim Jong-un — the first appearance in state media for the man many believe is slated to become North Korea's next leader.
There was no further mention of him in a state media report later about the Workers' Party convention where delegates yelled "Hurrah!" to celebrate Kim Jong-il's re-election as general secretary.
But the mere mention of Kim Jong-un's name caused ripples among North Korea watchers looking for confirmation that Kim Jong-il had anointed the young man as his successor.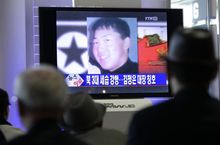 "It's clearly the biggest news we've had from North Korea since the death of Kim Il-sung," said Peter Beck, a Council on Foreign Relations-Hitachi research fellow at Keio University in Tokyo.
North Korea made history when its founder, Kim Il-sung, died of heart failure in 1994 and his son, Kim Jong-il, took over. It was the communist world's first transfer of power from father to son.
Speculation has been brewing about another dynastic succession since Kim Jong-il reportedly suffered a stroke in August 2008. There were concerns that his sudden death without a leadership plan in place could spark chaos in the nation of 24 million that he rules with absolute authority under a "military-first" policy.
Noticeably thinner and grayer, Kim Jong-il has resumed touring factories and farms but is said to be suffering from diabetes and kidney trouble. North Korea has been looking to 2012, the centennial of Kim Il-sung's birth, as a major year for celebration — and some say possibly the naming of a new leader — but time may be running out.
Kim Jong-il himself had some 20 years of training before he took over from his father in a process shrouded in as much secrecy in the 1970s as in 2010. He was 31 when he won the No. 2 Workers' Party post in 1973, an appointment seen as a key to becoming leader.
The following year, Mr. Kim was formally tapped to succeed his father, but state media did not reveal that to the outside world until the 1980 congress, the last big political meeting in North Korea, where his name was made public for the first time.
None of his sons appears ready to step into the limelight. The eldest, Jong-nam, spends much of his time outside the country and may have thwarted his chances by getting caught trying to sneak into Japan on a fake passport in the 1990s. The father thinks the middle son, Jong-chol, is too girlish, according to a 2003 memoir by a former sushi chef who worked for the leader.
Kim Jong-un is believed to be only 27 and, until being promoted to general, had no known political or military positions. However, he is his father's favorite, and the most like him in looks and ambition, the chef wrote in "I Was Kim Jong-il's Cook" under the pen name Kenji Fujimoto.
Kim Jong-un has steadily been trying to build his political clout since last year, analysts say.
The son was the mastermind behind July 2009 cyberattacks that paralyzed South Korean government and private websites and, more significantly, the sinking in March of a South Korean warship, said Ha Tae-keung, chief of Open Radio for North Korea, a Seoul-based station that claims a widespread network of sources in the North. Pyongyang denied involvement.