At Sgt. Riker's Civil War Trading Post in Ashland, Va., the past feels close to Ransom Hundley.
Helping set the scene are the $4,700 pine officer's chest from the 2nd Mississippi Regiment and two bullets from the Spotsylvania Courthouse that collided in midflight. Also, the rare script "C" Confederate cavalry button unearthed in Goochland County is available for $2,499.
One hundred fifty years after the first shells fell on Fort Sumter in Charleston, S.C., Civil War memorabilia remains a lucrative business. Sales are up 20 percent at Mr. Hundley's shop from last year. He attributes renewed interest in the war to the sesquicentennial.
"It's a contest that still captures the imagination of the American public," Mr. Hundley said. "Any one of us who would've been alive at the time would be on one side or the other."
The faceoff exploded at 4:30 a.m. on April 12, 1861, in Charleston Harbor. About 3,000 rounds from Confederate shore batteries pummeled Fort Sumter for the next 34 hours.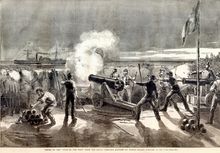 The fort, designed to protect the harbor's entrance, was incomplete. It mounted only 60 of a possible 135 cannon and faced dwindling supplies of food and ammunition.
By April 13, U.S. Maj. Robert Anderson surrendered the fort, evacuated his troops and ended the Civil War's first battle. The ensuing four bloody years still grip the attention of collectors.
"The 150th anniversary, that's going to recharge a lot of people's interest in the Civil War," said Brian Lown, who runs Hampton Roads Relics in Virginia Beach. "They're fascinated by history. There were so many skirmishes and so many battles. You read these personal accounts and they're almost like fiction. 'Wow, this really happened?'"
Added Pleasant Bagby of Virginia Civil War Relics in Charlottesville, Va.: "There's a passion for this stuff because it played out in their backyards. … There's the idea of having a piece of what their ancestors may have held on to, part of their own folklore."
The April 15 release of Robert Redford's film "The Conspirator," chronicling the aftermath of President Lincoln's assassination, also is expected to drive interest in the war.
Buttons and belt buckles, particularly those marked U.S. or C.S., and bullets are the most popular items. Also attracting attention are campsite relics — lead Minie balls carved into unique objects, harmonica reeds, bullet molds, chess sets and ax heads — because they make the conflict personal.
"With serious collectors, if they have something they need or want, they will find a way to buy it," said Angelo Scarleto, who works at the Union Drummer Boy in Gettysburg, Pa.
Even what appears to be an everyday item can command a significant price. Take the buttons. A common Union button may sell for $20 or $30, but anything Confederate commands a premium. Find a button with the gilt covering intact and shank undamaged from, say, Florida, Georgia or Mississippi, and the price could approach $2,000 to $5,000. Buckle prices zoom higher.
All of that goes back to the relative rarity of Confederate gear and something more.
"There's a certain romance attached to the Confederacy," said Ross Smith, who operates Shenandoah Trader in New Market, Va., and specializes in Civil War books and relic display cases.