It would be hard for any thriller to top the terrifying, instantly iconic setpiece murder sequence that opened the original "Scream" in 1996. But "Scream 4," once again directed by Wes Craven and scripted by Kevin Williamson, sure tries.
Instead of a single killing, "Scream 4" ups the ante with a manic movie-within-a-movie multiple murder. Attractive teens watch horror movies and discuss their merits, even as they complain about sequels featuring "hyperarticulate teens who sit around and deconstruct horror movies." Eventually, they die. Like a Penn & Teller magic trick that also reveals the secret to its own illusion, it participates in the conventions of the slasher flick even as it exposes the genre's guts.
The opening sequence isn't particularly scary, but it's twisted and funny, and the strata of snide self-references set the stage for what's to come. It also gives the movie a chance to reflect on the state of horror in the decade-plus since the last installment. Naturally, a lot has changed for the series' protagonists as well.
One the eve of the anniversary of the original Woodsboro murders — the ones chronicled in the first film — Sidney (Neve Campbell), the lone surviving teen victim, has returned home to finish a book tour. Meanwhile, former news reporter Gale Weathers-Riley (Courteney Cox) is married not-so-happily to the dopey cop Dewey (David Arquette), who's now Woodsboro's sheriff.
The three have all grown into their roles by now, and Miss Campbell in particular makes a sympathetic victim. But it hardly matters, as it's not long before another killer in another Ghostface mask starts yet another killing spree, this time centered on the high-school friends of Sidney's younger cousin, Jill (Emma Roberts).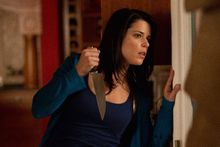 From there, the movie meets its quota for murderous mayhem, with the new Ghostface chasing expendable younger cast members through a labyrinth of spacious suburban homes. Meanwhile, the trio of returning leads all try, once again, to put a stop to killings eerily reminiscent of those that plagued their own younger years.
"Scream 4" makes its generational torch-passing explicit on numerous occasions, with one of the younger characters gushing to Miss Cox's Weathers, who made her name as a TV reporter covering the murders in the original trilogy, "You were my '90s." Indeed, the handoff is about generational attitudes as much as introducing a new crew of witty teen victims. Mr. Williamson's zippy script augments the original film's cool self-awareness with a contemporary emphasis on personal discovery and driven self-obsession. With "Scream 4," he's bridged the gap between Gen X cynicism and Gen Y narcissism.
Like a cheeky movie geek's version of "Inception," the film layers pop-culture realities on top of each other until real life and the movie world are virtually one. As the killings progress, the cast of characters endlessly ponder their genre-driven fates, wondering just what role they're playing in the horror movie that's overtaken their lives. What's real? What's a movie? As in the original "Scream," Mr. Craven and Mr. Williamson seem to suggest that in our socially networked, pop-saturated world, there's hardly a difference at all.
But ultimately, as a self-referential hall of mirrors, "Scream 4" is more amusing than satisfying.
★★½
TITLE: "Scream 4"
CREDITS: Directed by Wes Craven; screenplay by Kevin Williamson
RATING: R for bloody murders, vulgarity
RUNNING TIME: 112 minutes
MAXIMUM RATING: FOUR STARS