The signature crimes of the most violent drug cartel in Mexico are its beheading and dismemberment of rival gang members, military personnel, law enforcement officers and public officials, and the random kidnappings and killings of civilians who get caught in its butchery and bloodletting.
But this disparate band of criminals known as Los Zetas is no longer just a concern in Mexico. It has expanded its deadly operations across the southwestern border, establishing footholds and alliances in states from New York to California. Just last year, federal agents tied a cocaine operation in Baltimore to the Zetas.
"Those of us who live and work along the border know they're already here," said Zapata County Sheriff Sigifredo Gonzalez Jr., whose Texas county lies on the Rio Grande 50 miles southeast of the Zetas' stronghold of Nuevo Laredo. "There's already been killings and many residents here are living in fear."
Sheriff Gonzalez, whose Texas Border Sheriff's Coalition sought help from the federal government to control growing violence along the border, said the rising brutality of Mexican drug gangs, particularly the Zetas, "never stops shocking me."
Trained as an elite band of Mexican anti-drug commandos, the Zetas evolved into mercenaries for the infamous Gulf Cartel, bringing a new wave of brutality to Mexico's escalating drug wars. Bolstered by an influx of assassins, bandits, thieves, thugs and corrupt federal, state and local police officers, the Zetas have since evolved into a well-financed and heavily armed drug smuggling force of their own.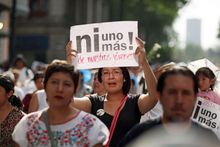 Known for mounting the severed heads of their rivals on poles or hanging their dismembered bodies from bridges in cities throughout Mexico, the Zetas have easily become the most feared criminal gang in Mexico — where 35,000 people have been killed in a continuing drug war. Everyone is a potential victim: men, women and children.
"The Zetas are determined to gain the reputation of being the most sadistic, cruel and beastly organization that ever existed," said George W. Grayson, professor of government at the College of William & Mary and an expert on Mexican drug gangs. "Many of Mexico's existing drug cartels will kill their enemies, but not go out of their way to do it. The Zetas look forward to inflicting fear on their targets.
"They won't just cut off your ear, they'll cut off your head and think nothing of it."
Grisly example
What the Zetas are capable of doing was never more clear than the carnage they left behind in December 2009 on a squalid back street in the border town of Reynosa, Mexico, across the Rio Grande from McAllen, Texas. The bodies were no longer human, their torsos scarred by deep lacerations and punctures; the severed heads were badly beaten. Crudely butchered limbs lay scattered across a blood-stained tarmac.
"See. Hear. Shut up, if you want to stay alive," read a note written like so many others in block letters on blood-splattered poster board.
The simple truth, Mr. Grayson said, is that the Zetas "enjoy killing — they want to terrorize communities."
Over the past few months, Mexican authorities have unearthed more than 140 bodies from mass graves in the state of Tamaulipas. Many of the victims were kidnapped off buses and killed when they refused to work for the Zetas. Tamaulipas, in northeastern Mexico, is across the border from Brownsville, Texas.
Mexican police arrested 22 suspected Zetas in the killings. The victims were Mexicans and Central and South American migrants, who authorities think were targeted to work for the Zetas as gunmen or drug mules. Others were thought to have been killed when they refused ransom demands.
Just last week, Mexican security forces arrested 16 police officers in San Fernando in Tamaulipas state, accused of protecting Zetas gang members suspected in the massacres. On Sunday, Tamaulipas Gov. Egidio Torre Cantu replaced his public security chief, naming a former Mexican military official, Capt. Rafael Lomeli Martinez, to the post to coordinate new efforts to crack down on drug smugglers.