JENIN, West Bank | A well-known Arab-Israeli actor, director and political activist was gunned down Monday in the West Bank town where he ran a drama school and community theater, Palestinian police said.
Juliano Mer-Khamis was shot five times by one or more militants, Jenin police Chief Mohammed Tayyim said. There was no immediate claim of responsibility.
Mr. Mer-Khamis, 52, was the son of a Jewish mother and an Arab father — a rarity in a land where the two populations almost never intermarry. His split identity fueled a long career as an actor and a vocal activist against Israel's policies toward the Palestinians. He starred in several critically acclaimed Israeli films and also appeared in the 1984 American film "The Little Drummer Girl."
In 2006, he opened an amateur theater company in Jenin, a city torn by violence during the second Palestinian uprising after 2000. He saw the company, known as the Freedom Theater, as a way of restoring normalcy to the town's youth and opening their minds to the world beyond the harshness of their immediate surroundings. His mother, an Israeli Jew, had run a youth theater in Jenin years before.
The theater was criticized — and vandalized — by Palestinians who were suspicious of Mr. Mer-Khamis, an Israeli citizen, and saw the theater as a threat to their traditions.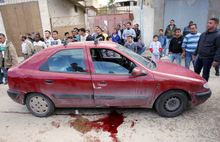 "We lack a culture of criticism. We lack a culture of free thinking," Mr. Mer-Khamis told the Associated Press in 2009, when his company put on a production of "Animal Farm."
"One of our roles is to challenge this," he said.
Mr. Mer-Khamis said he had planned to stage "The Lieutenant of Inishmore," a satire of armed resistance, but shelved the idea after someone smashed the window of his car.
After Monday's shooting, a Palestinian ambulance took his body to a nearby checkpoint to be transferred into Israel.