WASHINGTON (AP) — Yielding to political opposition, Attorney General Eric H. Holder Jr. announced Monday that 9/11 mastermind Khalid Sheikh Mohammed and four alleged henchmen will be referred to the system of military commissions for trial rather than to a civilian federal court in New York.
The families of those killed in the Sept. 11 attacks have waited almost a decade for justice, and "it must not be delayed any longer," Mr. Holder told a news conference.
After months of delay, the administration finally backed off Mr. Holder Jr.'s November 2009 announcement that the five would be tried in a courthouse just blocks from the World Trade Center site in lower Manhattan that was attacked on Sept. 11, 2001. That announcement created intense political opposition among Republicans and ultimately even among some Democrats, particularly in New York.
A federal law enforcement official who earlier spoke on condition of anonymity said it will be up to the U.S. military to decide whether the island prison at Guantanamo Bay, where the five are held, will be the site for trial or whether the five will be tried together or separately.
At the White House, press secretary Jay Carney referred questions about the decision to the Justice Department, but at one point during the questioning, Mr. Carney answered, "Yes," when asked whether Mr. Obama agreed with Mr. Holder's decision.
Republicans wasted no time Monday in criticizing the delay.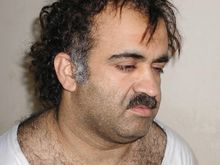 "It's unfortunate that it took the Obama administration more than two years to figure out what the majority of Americans already know: that 9/11 conspirator Khalid Sheikh Mohammed is not a common criminal; he's a war criminal," said Rep. Lamar Smith, Texas Republican, who is House Judiciary Committee chairman.
Republican critics have roundly assailed the administration, first for the decision in late 2009 to try the men in New York, then for a long delay in making a decision on whether to have them face military commission justice instead.
One key lawmaker, Sen. Lindsey Graham, South Carolina Republican, said in November he believed he had the votes in the Senate to block SheikhMohammed from a civilian court.
"I think it is a big mistake to criminalize the war, to take someone you've held under the law of war as an enemy combatant for six or seven years, then put them in civilian court," Mr. Graham said in November. "It is a disaster waiting to happen."
The political fight over where to try the alleged 9/11 plotters is part of a bigger battle in which Republicans want no detainees from Guantanamo Bay brought into the United States.
In December, Congress barred any such transfers to the United States. In several other congressional votes last year, many Democrats joined Republicans in opposing bringing Gitmo prisoners stateside for trial or detention. The administration believes some detainees cannot be brought to trial, in many cases because of evidence tainted by harsh interrogation tactics, and must be held for years.
The Justice Department is requesting $66.9 million in the proposed 2012 budget to house regular federal inmates at a shuttered Illinois prison. Originally, the administration intended for Gitmo detainees to be housed there as part of a plan to close Guantanamo Bay.
Congressional Republicans are suspicious that the administration really still wants to move detainees to the Illinois facility and could put the new request under a shadow despite top-level assurances that the money is for renovations to accommodate traditional federal inmates.
The four alleged co-conspirators are Waleed bin Attash, a Yemeni who allegedly ran an al Qaeda training camp in Afghanistan; Ramzi Binalshibh, a Yemeni who allegedly helped find flight schools for the hijackers; Ali Abd al-Aziz Ali, accused of helping nine of the hijackers travel to the United States and sending them $120,000 for expenses and flight training; and Mustafa Ahmad al-Hawsawi, a Saudi accused of helping the hijackers with money, Western clothing, traveler's checks and credit cards.