There weren't really any Cinderellas at this Final Four, but an unexpected invitee did walk away with the glass slipper.
The Texas Tech Knight Raiders are the new kings of college chess, capturing the 2011 President's Cup over the weekend in Herndon, Va. With three grandmasters on its roster, Tech could hardly be considered an underdog, but its win freaks the duopoly long claimed the college game's dominant programs, the University of Texas-Dallas and Maryland's own University of Maryland-Baltimore County.
The Raiders scored 6 1/2 match points in the weekend's play, with UT-D and the University of Texas at Brownsville at 6, and UMBC, last year's champion, bringing up the rear at 4 1/2. We'll have a full recap and action from the event next week.
One benefit for the winners: The Texas Tech roster - GMs Anatoly Bykhovsky of Israel, Davorin Kuljasevic of Croatia and Andre Diamant of Brazil, and IMS Istvan Sipos of Hungary and Faik Aleskerov of Azerbaijan - will get "top consideration" for any summer internship slots at giant consulting firm Booz Allen Hamilton, the Northern Virginia defense contractor that sponsored and hosted the tournament.
–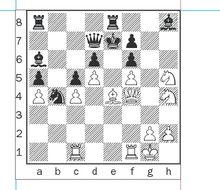 The 12th European Individual Championship last week in Aix les Bains, France, also produced an unexpected winner, as unheralded Russian GM Vladimir Potkin claimed the top prize on tiebreaks over Polish GM Radoslaw Wojtaszek, Ukrainian GM Alexander Moiseenko and Hungarian superstar Judit Polgar.
Spanish GM Francisco Vallejo Pons came up a half-point short of the leading group, but turned in one of the best games of the event in his dismantling of strong Ukrainian GM Anton Korobov. In a Modern, White scores a major positional victory with the alert 20. c4 Qd7?! 21. Bxf6, breaking up the Black kingside as 21…Bxf6? 22. Ng4! Bxa1 23. f6! exf6 [Qxg4 24. Qxh6 Qg6 25. Bxg6 fxg6 26. Qg7 mate] 24. Qxh6 f5 25. Qg5+ Kh8 26. Bxf5 wins for White.
White squelches any possibility of counterplay with the Karpovian 31. Rac1!, and then strikes before Korobov's king can carry out his plan of hightailing it to the queenside for safety.
Thus: 30…Bh8 31. Nf4 Ke7 (see diagram; if Black's king can find shelter, he has some slim hopes of using the open kingside files for an attack) 32. Ng6+! fxg6 (Kd8 33. Nxh8 Rxh8 34. Nxh6 Qe7 35. Ng4 is more pedestrian but equally winning for White) 33. fxg6 Kd8 (Rg8 34. g7! Bxg7 35. Nxg7 Rxg7 36. Qxf6+ Ke8 37. Qf8 mate) 34. Bf5 Qe7 35. Rce1 Qf8 (Qxe1 is out because of 36. Qxd6 mate) 36. g7!, a deflection that seals the win.
The finale: 36…Bxg7 37. Nxg7 Kc7 (Qxg7 38. Qxd6+) 38. Rxe8 Rxe8 39. Ne6+ Rxe6 40. dxe6, and White emerges an exchange and a pawn to the good; Korobov resigns.
–
World champion Viswanathan Anand, once untouchable at rapid-chess time controls, scored an indifferent (for him) 6-5 result in the rapid portion of last month's Amber Tournament in Monaco. But the Indian star offered another reminder of his prowess at the accelerated format with a 3-0-1 match win over Uzbek GM Rustam Kasimdzhanov in Tashkent last week. The best game of the match showed the champ in fine attacking form.
This Petroff produces some uncharacteristically open central play, and White punishes Black's bid to complicate play on 14. h3 Bxf4?! (more modest was 14…Nf6 15. Rhe1 Be6) 15. Bxf7+!, when 15…Kxh7? 16. hxg4+ Bh6 17. g5 gives White a fierce attack. The Uzbek tries 15…Kh8 16. Qxf4 Nxf2 17. Ng5 f6? (the last chance might be 17…Qf6 18. Qh4 Qh6 19. Qxf2 Qxg5 20. Bd3 Be6, with some chances of holding the game) 18. Nf7+ Rxf7 19. Bg6!, already with the winning threat of 20. Qh4+ Kg8 21. Rhe1 Ne4 22. Rxe4 Be6 23. Qh7+ Kf8 24. Rxe6 Re7 25. Qe8 mate.
Black's knight has no choice but to plunge forward, but Black's king is lost in the process: 19…Nxd1 20. Qh4+ Kg8 21. Re1! (cutting off the king's escape; of course not 21. Rxd1?? Be6 22. Qh7+ Kf8 23. Bxf7 Kxf7 24. Re1 Qh8) Nxc3+ 22. bxc3 Be6 23. Rxe6 Qb6+ 24. Kc1, and Black has no tricks left after 24…Qg1+ 25. Re1; Kasimdzhanov resigns.
Vallejo Pons-Korobov, 12th European Individual Chess Championships, March 2011