CAMPAIGN
Warren makes first steps on potential Senate bid
Consumer advocate Elizabeth Warren is taking steps toward a possible challenge of Republican Scott P. Brown, a U.S. senator from Massachusetts and a top Democratic target in 2012.
The 62-year-old Harvard law professor began contacting top Massachusetts Democrats on Thursday about a potential candidacy. A Democrat close to the national leadership told the Associated Press she plans to make a decision after Labor Day and will spend the next few weeks talking with voters and party activists. The person was not authorized to speak publicly about Warren's plans and requested anonymity.
National Democrats desperate to find a strong challenger to take back the Massachusetts seat long held by the late Sen. Edward M. Kennedy have been urging Mrs. Warren to run. At President Obama's request last year, Mrs. Warren set up a new consumer finance protection office.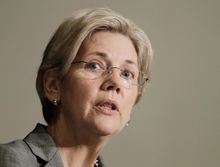 POSTAL SERVICE
120,000 jobs on line in cost-cutting move
The financially strapped U.S. Postal Service is considering cutting as many as 120,000 jobs.
Facing a second year of losses totaling $8 billion or more, the agency also wants to pull its workers out of the retirement and health benefits plans covering federal workers and set up its own benefit systems.
Congressional approval would be needed for either step, and both could be expected to face severe opposition from postal unions which have contracts that ban layoffs.
The post office has cut 110,000 jobs in the past four years and is currently engaged in eliminating 7,500 administrative staff.
But the loss of mail to the Internet and the decline in advertising caused by the recession have rocked the agency.
Postal officials have said they will be unable to make a $5.5 billion payment to cover future employee health care costs due Sept. 30. It is the only federal agency required to make such a payment but, because of the complex way government finances are counted, eliminating it would make the federal budget deficit appear $5.5 billion larger.
If Congress doesn't act and current losses continue, the post office will be unable to make that payment at the end of September because it will have reached its borrowing limit and simply won't have the cash to do so, the agency said.
In that event, Postmaster General Patrick R. Donahoe said, "Our intent is to continue to deliver the mail, pay our employees and pay our suppliers."