Virginia Gov. Bob McDonnell is pressing ahead with a cost-cutting measure by proposing that the state save thousands by eliminating its dues to a 71-year-old, multistate compact to clean up the Potomac River. But the plan has drawn criticism from some who say the amount is a small investment in a major resource.
Mr. McDonnell, a Republican, included an amendment in the 2011 General Assembly session to eliminate about $150,000 in dues that the state would pay this fiscal year to the Interstate Commission on the Potomac River Basin.
The commission is a pact among the District, Maryland, Pennsylvania, Virginia, West Virginia and the federal government to preserve and maintain the river and its tributaries.
"During this time of when it's appropriate for government to reduce unnecessary spending and focus taxpayers money on core functions, the governor's office asked state agencies to identify memberships to organizations that could be eliminated to cut costs," said Jeff Caldwell, a spokesman for Mr. McDonnell, who has made fiscal austerity a hallmark of his term. "This commission was identified as one of several where the state could eliminate the expense of paying dues while not significantly impacting benefits to taxpayers."
The Virginia Department of Environmental Quality has prepared draft legislation to withdraw from the compact as a result of the decrease in funding, though if the state is able to find savings elsewhere, that money could be restored.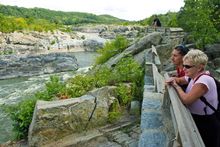 Commission Executive Director Joseph Hoffman said the group has been existence since 1940, with Virginia one of its founding members. It has an annual budget of $2.5 million, with the local jurisdictions contributing roughly $450,000 each year.
"This is a little disturbing, yes, but not a killer, and something we can try to make due without," Mr. Hoffman said. "This is the first time, at least as far as I can recall, that a jurisdiction has told [us] they're not going to be able to fund us entirely."
However, Virginia is not alone in withdrawing financial support.
Mr. Hoffman said the District, which annually contributes roughly $69,000, has advised the commission that it will not be paying this year or next year. Maryland reduced its funding from 1996 to 1998, but paid its full share of $157,000 this year.
But the $150,000 was only a minor amount in the state's two-year, $80 billion budget, said Rob Hartwell, appointed to the commission by Mr. McDonnell.
"They're basically shooting themselves in the foot by eliminating their funding," Mr. Hartwell said. "Virginia has a significant budget surplus, so why are you eliminating a successful commission that is an interstate, federal compact on the future of the nation's capital's river? It doesn't make a lot of sense, and I don't think there's been much thought put into this."
For example, more than $160,000 is expected to be spent through the commission and a group of partners this year on a shad restoration project involving the Potomac and Rappahannock Rivers — a contribution that, by
itself, outweighs the state's $150,000 expenditures.
Delegate Scott Surovell, a Mount Vernon Democrat whose district borders the Potomac, also was upset.
He pointed to a recent report released by the National Oceanic and Atmospheric Administration and the University of Maryland that downgraded, from a C to a D, the health of the river this year as evidence that such interstate compacts are crucial to maintaining the health of the river and the Chesapeake Bay.
"Having to manage an ecosystem like that requires interjurisdictional cooperation and coordination," he said. "One state cannot dictate to another what that state's going to do. That's why you've got to have an interstate compact."