It was in September 2008 when Kevin Barnes — then a cornerback at Maryland — hit Jahvid Best so hard the Cal running back lost his lunch and had to leave the game. Thanks to YouTube and his career with the Washington Redskins, Barnes still hears about it whenever he interacts with fans.
"It's something that a lot of people around here aren't going to forget," he said.
That's the lasting memory of Barnes so far, but now he's expected to do more. With injuries in the secondary and Phillip Buchanon suspended for the first four regular-season games, the third-year pro has no other choice but to grow up fast and fill a major need.
"I'm still a young guy; I'm only 24. I have a lot left in me," Barnes said. "I don't think I've reached halfway as far as my potential."
Barnes is the nickel cornerback behind starters DeAngelo Hall and Josh Wilson in the rotation. He was the Redskins' third-round pick in 2009 but still is growing and adjusting; he has appeared in just 14 NFL games with no sacks and one interception.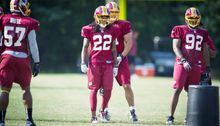 "He can make a play on a ball, and that's what you need. He's a hard-hitter, and he's a football player," said Wilson, who was signed away from Baltimore in the offseason but was a teammate of Barnes with the Terrapins. "If everything comes together, he can be more than even what he is right now."
That's the step Barnes must take — from a player with unrealized potential to regular contributor.
Defensive backs coach Bob Slowik knows what Barnes can do from a hitting standpoint and said coverage skills are expected to improve with all his players. But there are other things he would like to see out of Barnes.
"Just playmaking — just like anybody that goes in there," Slowik said. "You'd like to see him be physical, finish plays, make plays, very few mental mistakes, give great effort and just show what he can do."
The Redskins knew a bit of what Barnes could do having him around for the past two years, but they still signed Buchanon knowing the veteran was facing a four-game suspension. That's not an affront to Barnes, Slowik said, but it's still a challenge.
And it's one Barnes welcomes.
"I can't be mad at [Buchanon]. If coach wants us to compete, we'll compete," he said. "Coach [Mike] Shanahan has brought in many people at every position, so for me to think I'm any [more] special than anybody else and I don't need to be pushed is completely air-headed to me. I expect for whoever to be here to come in and compete. I wouldn't want it any other way."
Fortunately for Barnes, he's getting his chances. In the preseason opener against the Pittsburgh Steelers, he led Washington with five tackles and had a sack. The 24-year-old played in all four quarters and took the most snaps of any defensive back.
Barnes also spent the first week-and-a-half of training camp with the starters before Wilson stepped in.
"Practice snaps are precious, so those opportunities for him with the first unit — they're invaluable, and I think he gained a little bit of confidence because he's not only working with the first-unit defense but he's also working against the first-unit offense," Slowik said. "That was a big help to him."