The husband of the 91-year-old Georgetown woman found dead in her home last week was charged Wednesday with strangling his wife to death.
Albrecht Gero Muth, 47, who often donned a military costume and claimed to be a secret agent and Iraqi Army general, was formally charged in D.C. Superior Court with second-degree murder in connection with the death of journalist and author Viola Herms Drath.
Ms. Drath was found dead Friday and suffered a fractured rib, a torn right thumbnail, as well as bruising and abrasions on the neck and hemorrhages in both eyes — injuries consistent with strangling, according to an autopsy by the Office of the Chief Medical Examiner.
In an obituary emailed to The Washington Times, Mr. Muth said his wife died of injuries sustained in a fall.
Within hours of reporting Ms. Drath's death to authorities, Mr. Muth gave family members a letter dated April 11, 2011, stating that he was to be paid $150,000 upon her death, according to documents filed in D.C. Superior Court.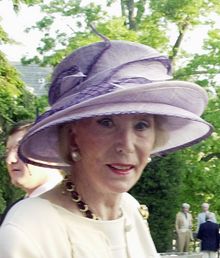 He also told Metropolitan Police Department detectives that his wife had recently reduced a monthly allowance that she allotted him, from $2,000 to $1,800, and that their union was a "marriage of convenience."
Police quickly grew suspicious of Mr. Muth, who has a history of domestic violence against his wife. He was the only person at the home with Ms. Drath when she died, and police found no evidence of forced entry to their home, in the 3200 block of Q Street Northwest, according to court documents.
He also changed his account of events during questioning, police said.
• To view court document, click here (PDF file)
Mr. Muth first told investigators he did not touch Ms. Drath upon discovering her body in the second-floor bathroom Friday morning. When told that investigators had DNA linking him to the body, Mr. Muth became nervous, saying he kissed his wife the night before her death and that he touched her hand when he found her in the bathroom, according to charging documents.
Police noted several scratches on Mr. Muth's face Friday and interviewed a neighbor who claimed to have been awakened Thursday night to the sound of faint cry followed by a "sinister laugh."
Both a witness interviewed by police and court records indicate a long pattern of abuse of Ms. Drath at the hands of Mr. Muth during their two decades of marriage.
In 1992, Mr. Muth pleaded guilty to simple assault against his wife and was sentenced to a year in jail. In a 2006 incident detailed in court records, Mr. Muth allegedly hit Ms. Drath in the head with a chair. He was charged with simple assault and possession of a prohibited weapon, but the charges were eventually dropped.
The court records state an argument in the couple's home turned physical with Mr. Muth striking Ms. Drath with the chair, then throwing her "off the sofa onto the floor" before he "pounded her head into the floor several times and sat on her for between five to seven minutes while yelling at her."
In one of several cryptic emails Mr. Muth sent to The Washington Times between his wife's death and his arrest, he admitted to the 1992 assault but said protective orders taken out against him in 2002 and 2004 by Ms. Drath and a man he was dating during their marriage had no factual basis.