Law enforcement officials plan to use a combination of tried-and-true tactics such as curfews and newer techniques such as monitoring social media websites to fight the latest criminal phenomenon: flash mobs.
Organized largely through text messages and via Facebook and Twitter, the gangs of unruly youths this summer have beaten and robbed citizens in Philadelphia, disrupted a fireworks display outside Cleveland, attacked fairgoers in Wisconsin and looted a 7-Eleven in Germantown.
While police are well-versed in crowd control at political rallies, concerts and other events, the speed with which flash mobs can organize and commit crimes poses new challenges.
"This is an old crime being organized with new tools. There's nothing new about groups of people assaulting people and robbing, but what's new is the technology," said Jerry Ratcliffe, chairman of the department of criminal justice at Temple University and a former London police officer.
"There's a fascination with the speed by which this can now take place. You can go from nothing happening to something happening in a matter of moments," he said. Flash mobs "take advantage of opportunities. Those opportunities are that the victims are outnumbered by the group and that there is an absence of law enforcement."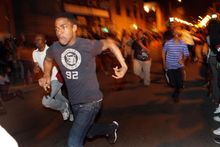 Philadelphia has responded by imposing a 9 p.m. curfew for teenagers, and the measure is helping keep a lid on the violence. Mayor Michael A. Nutter also appealed to the city's black youths by telling them "you have damaged your own race" by taking part in the melees.
After a 1,000-member gang showed up at a July Fourth celebration in the Cleveland suburb of Shaker Heights, the City Council passed an ordinance making it a crime to organize such a swarm through social media. Mayor Frank G. Jackson vetoed the measure this month because of concerns about its constitutionality.
While Philadelphia's curfew and Cleveland's proposed ordinance may help, police will increasingly fight flash mobs on their own turf by keeping an eye on Facebook pages and Twitter feeds to stay a step ahead of troublemakers, said Nancy Kolb, who oversees the Center for Social Media, a joint effort of the U.S. Department of Justice and the International Association of Chiefs of Police.
"This has been on the radar screen for quite a while. We've seen agencies try and conduct outreach with the individuals who may be organizing [a flash mob] via social media. Law enforcement agencies are looking at a lot of different options," she said.
Organizing on the Internet is attractive because it gives the mob "some anonymity," Mr. Ratcliffe said, since many of those involved learn of the event simply by seeing a message on Facebook and think they can participate without repercussions. Even if they are caught by police, the physical harm to bystanders or damage to property is already done.
Using the Internet to disrupt uprisings before they start may be the answer, but privacy settings on Facebook and other sites often freeze out police, and many in the communications industry are wary of authorities tracking people via cellular phones.
"Where I am and what I'm doing is not anybody else's business, and nobody should have access to where I am and what I'm doing unless I want to give it to them," Steve Largent, president and CEO of CTIA-the Wireless Association, said in an interview with The Washington Times on Monday.
"On the other hand, I'm kind of a law-and-order guy, too. And if we can use [technology] to promote law and order, then that's a good thing, too. So I'm kind of divided on this. But I would say that the side of me that says 'privacy is a good thing' probably wins out in the debate I have with myself."
At a time of budget cutting in cities and states across the nation, most police departments can't afford to have officers spend their days tracking potential flash mobs on their cellphones or surfing the Web in the hopes they will uncover a plot on Twitter.
Instead, Philadelphia added manpower to the fight by partnering with city business owners and asking them to contact authorities if they sensed something was amiss. Mr. Ratcliffe said that effort, along with the curfew and a more visible police presence on the street, has had a big impact.