JERUSALEM — Gaza militants launched barrages of rockets deep into Israel early Friday and Israeli aircraft struck targets in the Palestinian territory in the aftermath of the deadliest attack against Israelis in three years.
Gunmen who appear to have originated in Gaza and crossed into southern Israel through the Egyptian desert ambushed civilian vehicles traveling on a remote road, killing eight people. Six were civilians, and two were members of Israeli security forces responding to the incursion.
Thursday's attack signaled a new danger for Israel from its border with the Sinai Peninsula, long quiet under the rule of Egyptian leader Hosni Mubarak. He was deposed in February, and the desert of the Sinai Peninsula — always restive and controlled largely by Bedouin tribes — has become increasingly lawless.
The sudden spike in violence threatened to upset the already frayed ties between Israel and Egypt and escalate the conflict between Israel and Hamas in Gaza.
On Friday, militants in Gaza launched at least 17 rockets into Israel, the military said. One, aimed at the city of Ashkelon, was intercepted by the new Israeli anti-missile system known as Iron Dome. Another hit next to a synagogue in the port city of Ashdod and wounded six Israelis, according to Israeli emergency services.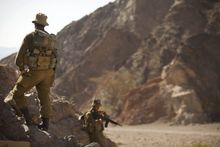 Israel's south has been equipped with early warning systems and bomb shelters over years of rocket fire from Gaza, and those measures have helped keep casualties low.
Israeli Prime Minister Benjamin Netanyahu visited some of the wounded in hospital Friday afternoon. "We killed the head of the group that sent the terrorists but this is just an initial response."
The Israeli military's chief spokesman, Brig. Gen. Yoav Mordechai, said it was "too early" to say that a broad escalation in Gaza was imminent.
"If we see that Hamas is choosing to escalate, we will not hesitate to expand the scope of our actions, respond in strength and exact a price from Hamas," he told Israel Army Radio on Friday morning.
Israeli aircraft hit five targets in Gaza in response to the rocket attacks, the military said. Gaza Health Ministry spokesman Adham Abu Salmia said five people were killed, including a militant.
Egyptian officials said five Egyptian security personnel died as a result of Thursday's gunbattles. An Egyptian security official said three died Thursday and two others died of wounds on Friday. He said they were apparently caught in a crossfire as Israeli soldiers chased the attackers.
On Friday the Egyptian news agency said Egypt filed an official protest over the deaths and called on Israel to investigate. The news agency said the Egyptian army chief of staff, Maj. Gen. Sami Anan, who is also second in command of Egypt's ruling military council, went to Sinai to head up Egypt's inquiry.
An Israeli military officer gave a different version of the events. He said one of the attackers was a suicide bomber who fled back across the border into Egypt and detonated his explosives among the Egyptian security personnel. It was not possible to reconcile the two versions.
The military said Friday that Israeli forces killed seven militants during the clash. The officer, briefing reporters by phone on condition of anonymity according to military regulations, said there were at least 15 attackers — Palestinian militants from Gaza, members of an extremist group.
Israel responded hours after the border attack with an airstrike in Gaza that killed five members of the group, known as the Popular Resistance Committees. The dead included the group's leader.