Two of the world's best lived up to their billing as former world champion Vladimir Kramnik of Russia and Norwegian star (and perhaps future world champion) Magnus Carlsen turned in dominating performances in two recent high-powered events in Europe.
Extending what has been a remarkable run, Kramnik won the elite Dortmund Sparkassen Chess Meeting for an amazing 10th time. Even with a last-round loss to American GM Hikaru Nakamura, the Russian won the double round-robin event by 1 1/2 points over rapidly improving Vietnamese GM Le Quang Liem. A win over Nakamura would have propelled Kramnik into the 2800-plus rating stratosphere, but his piece sacrifice fell short against the American's strong defense.
Kramnik virtually clinched the tournament at the halfway post, scoring four wins and a draw and never coming close to surrendering his lead thereafter. Round 5's game against Dutch GM Anish Giri was typical of the Russian's powerful play, featuring a well-prepared novelty (13. h4!) in this Grunfeld Exchange and not giving his young opponent any real chance to work himself back into the game.
Both players were critical of Black's 16. h5 Ne7 17. hxg6 fxg6?! - better, though still not equal, was 17…hxg6 18. Bb4 Rfe8 19. a3 Nd5 - as the isolated pawn on e6 will prove a constant burden for the defense. With 23. Ke2 Rd8 24. Rh3! Bc6 25. Rbh1, the h-file opened up by White's 13th move already is paying major dividends.
By 27. Rxc7 Nxc7 28. Rc3 Na6 29. g3 Rd8, Black is practically hogtied and can't respond in time to White's central thrust: 30. f4! Bf8 (gxf4 31. gxf4 Kf8 32. Be1!, with the idea of repositioning to h4 next move) 31. f5 Bxd6 32. exd6 Bb5+ 33. Ke3 Rxd6 34. fxe6 Kf8 35. Rc8+ Ke7 36. d5, and the passed central pawns will prove lethal.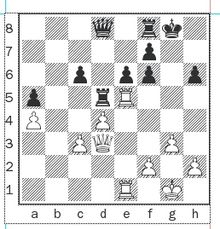 White smoothly transitions to a won ending after 36…Rd8 (Nc5 is met by 37. Bb4 a5 38. Bxc5 dxc5 39. Ke4 a4 40. Bc2 Bc4 41. Rc7+ Kd8 42. Rh7, winning) 37. Rxd8 Kxd8 38. d6 Nc5 39. Bd5 Bd7 (desperation, but also losing was 39 … Ke8 40. Kd4 Ba4 41. Bb4 Na6 42. Ba3 h5 43. Be4 h4 44. Bg6+ Kd8 45. e7+ Kc8 46. Bf5+ Kb7 47. d7) 40. exd7 Kxd7 41. Kd4, and Black's two pawns aren't nearly enough to compensate for the lost bishop.
With 42. Bb4 a5 43. Bxc5+ bxc5+, the ending is hopeless and Giri resigns before White can make his next move. The young Dutch champion has a bright future, but looked badly overmatched in this game.
–
Carlsen was nearly as impressive in capturing the premier event at the annual Biel Chess Festival in Switzerland, finished at 7-3 and, like Kramnik, clinched first place with a round to spare. The event also was a welcome return to international play for the brilliant Russian GM Alexander Morozevich, who finished just behind the Norwegian at 6 1/2-3 1/2 after a lengthy break from elite-level competition in part because of health problems.
French GM Maxime Vachier-Lagrave finished third while dealing Carlsen his only loss of the event. Vachier-Lagrave turned in one of the best attacking games in Biel while knocking off local hero Swiss GM Yannick Pelletier. White's unusual setup here may be closely studied by French Defense partisans, for Vachier-Lagrave seems to obtain an effortless advantage while not allowing any of the annoying counterplay so typical of this hard-to-crack defense.
Having obtained a clear initiative, White cashes in on 21. Rae1 h6?! 22. Bxf6 gxf6?! (see diagram; Pelletier may not have liked the looks of 22…Qxf6 23. Qa6 Rxe5 24. dxe5 [Rxe5?! is inferior on account of 24…Qf3 25. Qxa5 Rb8 26. Re1 Rb2 27. Rf1 Rc2, and Black's pressure is worth the lost pawn] Qf3 25. Qxa5 Rb8 26. Qc5, but that line clearly was preferable to what happens in the game) 23. Rxe6! fxe6 24. Qg6+ Kh8 25. Qxh6+ Kg8 26. Qg6+ Kh8 27. Re4!, disdaining the perpetual check to play for mate.
The only blemish on White's play (caught instantly by the computer kibitzers monitoring the play) comes on 27…f5 28. Qh6+ Kg8 29. Rxe6 Rd7 30. Rg6+ Kf7, when 31. Qh5!, threatening some devastating discovered checks, would have been decisive; e.g., 31…Qf6 (Rh8 32. Qxf5+ Ke8 33. Qe5+ Kf7 34. Qg7+ Ke8 35. Qxh8+; or 31…Ke7 32. Qe2+ Kf7 33. Qe6 mate, the line both players overlooked at the board) 32. Rh6+ Ke7 33. Qe2+ Kd8 34. Rxf6 Rxf6 35. Qe5 Rdd6 36. Qxa5+ Ke8 37. Qb6, and the passed pawns on both wings should ensure victory.
Fortunately, White's 31. Rxc6!? Ke8 32. d5 is still good enough to win, as White has four pawns for the rook and the Black king remains badly exposed. Vachier-Lagrave's king endures a few uncomfortable moments, but the outcome is sealed.
After 40. Kg3 Qb7 41. Qf5 Rc7 (Qb8+ 42. d6 Rd7 43. h4 Rxd6? 44. Rc8+ and wins) 42. Rh6 (threatening 43. Rh8+ Ke7 44. Qe6 mate) Rh7 43. Re6+, Black packs it in as 43…Rhe7 (Rce7 44. Qxh7 and the rook is pinned) 44. d6 wins on the spot.
Kramnik - Giri, Sparkassen Chess Meeting, July 2011