The euphoria that swept Tripoli, Libya, on Sunday appeared to dissipate early Monday, as residents learned that forces loyal to Col. Moammar Gadhafi still controlled parts of the capital and the longtime Libyan dictator remained at large.
Col. Gadhafi's son and one-time heir apparent, Seif al-Islam, who rebels said was in their custody on Sunday, turned up a free man early Tuesday at a Tripoli hotel where foreign journalists are staying.
He took reporters in his convoy on a drive through the city, the Associated Press reported. AP reporters were among the journalists who saw him.
"I am here to refute the lies," he said, referring to news of his arrest, according to an Agence France-Presse report.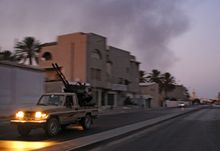 He claimed that Tripoli was still under the control of his father's regime, that his father was still in the city and that the rebels had been lured into a trap.
Another of Col. Gadhafi's sons, Mohammed, escaped house arrest on Monday.
Meanwhile, world leaders called on Col. Gadhafi to surrender and stop the final days of bloodshed. President Obama added a warning in remarks from Martha's Vineyard in Massachusetts, where he is vacationing.
"I want to emphasize that this is not over yet. As the regime collapses, there's still fierce fighting in some areas," he said.
Early Monday, rebels had surrounded Bab al-Aziziya, a military barracks in the heart of the city. The heavily fortified compound serves as a residence for Col. Gadhafi, his family and the inner circle of his regime.
Residents of Tripoli were startled by an explosion from the direction of Bab al-Aziziya and saw smoke on the horizon. Later, a brief firefight broke out near the compound as rebels clashed with pro-Gadhafi forces, who rode in tanks.
The rebels had anticipated a tough fight at Bab al-Aziziya.
Hana, a resident of Tripoli who gave only her first name, said rebels were waiting for reinforcements from Zawiyah, a city 30 miles west of Tripoli, before launching a bigger offensive.
Heavy fighting also was reported outside the Rixos Hotel, where the Gadhafi regime required foreign journalists to stay. The reporters are confined to the hotel surrounded by armed Gadhafi loyalists.
A network of tunnels connects Bab al-Aziziya with the Rixos Hotel, and Col. Gadhafi could be using this passage to evade detection, a Libyan source told The Washington Times.
"That would explain the heavy fighting around the Rixos. They could be using the foreign journalists as human shields," said the source, who asked not to be identified.