Powerful and deadly Hurricane Irene swept through the region early Sunday, downing hundreds of trees and knocking out power, but largely sparing area residents from widespread destruction.
The brunt of the sprawling storm moved into the region after midnight with heavy rain and reported wind gusts of 60 mph.
Though Irene caused less damage than expected, the storm left its mark across the region as it made its way up the East Coast.
A half-million area residents were left without power, many of them in Prince George's County, which reported 122,500 outages. Southern Maryland also was hit hard, with officials reporting widespread power outages and fallen trees.
"St. Mary's and Calvert counties were really hit," said Maryland Gov. Martin O'Malley, who visited a shelter in Baltimore while Lt. Gov. Anthony G. Brown viewed the damage by helicopter. "A lot of crews are out there trying to get people electricity as soon as possible."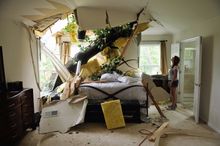 Residents living downstream of a dam on the swollen St. Mary's River were forced to evacuate, and St. Mary's school officials canceled classes for Monday. Classes in Anne Arundel, Calvert, Charles and Prince George's counties also have been canceled.
Anne Arundel received about 7 inches of rain and had several homes damaged by trees.
"We're all healthy, everybody in the community is OK," said Debbie Martinez, whose house in Annapolis was hit by a tree that crashed into her master bedroom. "Everything can be replaced as far as material things. The main thing is we're all healthy."
Irene made landfall Saturday morning at Cape Lookout, N.C., as a Category 1 hurricane, then moved into the mid-Atlantic before being downgraded to a tropical storm and hitting the Northeast on Sunday, killing at least 15 people in its path. Many of the victims were killed by falling trees, including an 85-year-old Maryland woman killed in Queen Anne's County when a tree knocked a chimney through the glass roof of the sunroom where she was sitting.
"Our No. 1 message … is we are not out of the woods yet," Homeland Security Secretary Janet A. Napolitano said Sunday morning as Irene passed through New Jersey and New York City.
"This is not over," President Obama said late Sunday afternoon from the White House's Rose Garden.
The big concern now is prolonged power outages and potential flooding from overflowing rivers and streams, though area officials did not expect such problems.
As many as 200 trees were down in the District, according to D.C. Homeland Security and Emergency Management. Many of them were in Northwest and fell because of the wind or rain-soaked soil giving way.
Two trees fell outside an apartment building at 39th and Edmunds streets Northwest in Glover Park.
"I don't think any of us know what to do," said Abby Taylor, whose apartment sustained minor damage. "I guess we are going to wait to get this taken care of."