ABU GRAYN, Libya — Libyan rebels pledged Tuesday to launch an assault within days on Moammar Gadhafi's hometown, the ousted strongman's last major bastion of support.
The rebels and NATO said that Gadhafi loyalists were negotiating the fate of Sirte, a heavily militarized city some 250 miles (400 kilometers) east of the capital, Tripoli.
Mustafa Abdel Jalil, the head of the rebels' National Transitional Council, said that negotiations with forces in Sirte would end Saturday after the Muslim holiday of Eid al-Fitr, when the rebels would "act decisively and militarily."
We can't wait more than that," he told reporters in the eastern city of Benghazi. "We seek and support any efforts to enter these places peacefully. At the end, it might be decided militarily. I hope it will not be the case."
Col. Roland Lavoie, a NATO spokesman, said it's possible Sirte might surrender without a fight.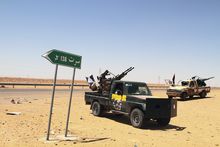 "We have seen dialogues in several villages that were freed — I'm not saying with no hostilities, but with minimal hostilities," he said.
Lavoie said NATO would continue its mission as long as civilians in the country are under threat, although the area around the capital, Tripoli, is now "essentially free."
Lavoie appeared to struggle to explain how NATO strikes were protecting civilians at this stage in the conflict. Asked about NATO's assertion that it hit 22 armed vehicles near Sirte on Monday, he was unable to say how the vehicles were threatening civilians, or whether they were in motion or parked.
The rebels also demanded that Algeria return Gadhafi's wife and three of his children for trial after they fled, raising tensions between the neighboring countries.
Safiya Gadhafi, her daughter Aisha and sons Hannibal and Mohammed entered Algeria on Monday, while Gadhafi and several other sons remain at large. In Washington, the Obama administration said it had no indication that Gadhafi himself has left the country.
Algeria's Health Ministry said that Aisha Gadhafi gave birth to a girl on Tuesday. The official provided no other information, including on where she gave birth. The official was not authorized to be publicly named according to ministry rules.
Algerian news reports had said Aisha's pending childbirth was one reason for Algeria's decision to take the family in.
The departure of Gadhafi's family was one of the strongest signs yet that the longtime leader has lost his grip on the country. Algeria's decision to host members of the Gadhafi clan is an "aggressive act against the Libyan people's wish," said Mahmoud Shammam, information minister in the rebels' interim government.
Rebels also said another Gadhafi son, Khamis, was likely killed last week in a battle south of Tripoli.
"We are determined to arrest and try the whole Gadhafi family, including Gadhafi himself," Shammam said late Monday. "We'd like to see those people coming back to Libya."