New York IM Yury Lapshun weathered a hurricane and navigated a shoal-filled, upset-laden Atlantic Open to take the city's biggest summer tournament on tiebreaks over Virginia expert Eric Most on Sunday, played despite the elements at the event's traditional site, the Westin Washington Hotel downtown. Lapshun and Most were the only two undefeated players in the Open section, drawing their final-round game to finish at 4 1/2- 1/2, a half-point ahead of veteran Connecticut GM Sergey Kudrin.
Most, who won't be an expert for very long, had a sensational tournament, upsetting Maryland GM Larry Kaufman in Round 2 and following that up with a stunning defeat of former U.S. champion GM Alexander Shabalov a round later. Organizers from the Continental Chess Association, who kept the tournament on track despite the slight irritation of Hurricane Irene, calculate that Most put up a Category 18 performance based on his record here.
There were upsets galore in the top section - when veteran Maryland IM Aladapo Adu defeated top-seeded GM Lubomir Ftacnik in Round 3, all four of the grandmasters playing in the event had suffered at least one defeat. Maryland expert Benjamin Krause had a fine tournament as well, drawing Shabalov in Round 1 and suffering his only loss of the event in the final round against Kudrin.
We'll have some games and a full roster of winners from all the sections next week, but should note that the three perfect 5-0 scores of the weekend came in the three lower sections: Ryan Cowdin in the Under 1500 section; Clark Smiley in the Under 1300 section; and Alex Jiang in the Under 1000 tournament. Congratulations to all.
–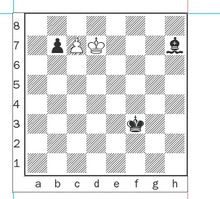 Shabalov, who withdrew from the tournament after his loss, may still have been recuperating from his impressive performance the previous week at the strong Manhattan Open, where he tied for first with IM Vladimir Romanenko. The tournament also gave the U.S. chess community its newest international master, as 17-year-old NM Parker Zhao notched his third and final norm in New York.
Zhao clinched his title in style with a terrific sacrificial win in the Manhattan's final round against IM Greg Shahade. Shahade as Black tries to lure his young opponent into unfamiliar territory with a rare Sicilian sideline, but White reacts well and strikes when Black grows careless with his pieces.
By 11. Bf4 0-0 12. 0-0 d6, Shahade can claim the two bishops and needs only to catch up on development to reach equality; his king also appears well-protected, but appearances soon will prove deceiving. With 13. exd6 e5?! 14. Be3 Qxd6 15. Rad1 Qe6 (Qb4? 16. Qxb4 Nxb4 17. Bc5), Black has handed his opponent a couple of free tempi and should have exercised a little more caution in the ensuing play.
White pounces after 16. Bc5 Rd8? (Re8 also is met strongly by 17. Nd5, threatening some nasty forks, but Black can try to limit the damage with 17…Qf5 18. Qxf5 Bxf5 19. Nc7 Bxc2 20. Rd2 Bf5 21. Nxa8 Rxa8) 17. Nd5 Qg4? (wading into deeper trouble and leaving the knight on c6 drastically overburdened; again Black would do well to accept a more modest disadvantage with 17…Rxd5 18. Rxd5 Qf5 19. Qxf5 Bxf5 20. c3 Be6, and his two bishops give him reasonable drawing chances) 18. Ne7+!.
It's already too late to give up the exchange with 18…Nxe7 19. Rxd8+ Bf8, as both 19. Qxg4 Bxg4 20. Rxa8 and the more sadistic 19. Qxe5! Qe6? 20. Rxf8+ Kxf8 21. Qh8 mate end the discussion. But 18…Kh8 runs into the even more spectacular 19. Qxc6!! bxc6 (Rxd1 20. Qe8+) 20. Rxd8+ Bf8 21. Rxf8+ Kg7 22. Rxf7+! (the final insult; 22…Kxf7 23. Nxe5+ snares the queen) 23. Bd6, and Black resigns as he can only stave off the threatened 24. Bxe5+ through catastrophic material loss.
–
After slogging through too many books with titles such as "The Complete 16…b5 Bondarenko Sicilian" and "Four Hundred Essential Bishop-and-Pawn Endings," it's nice to turn to a tome like Christian Hesse's "The Joys of Chess" (New In Chess, 432 pages, $34.95), one of those periodic anthologies of great games, chess trivia, historical oddities, brilliant moves, tragic oversights and bizarre positions that may not raise your rating but likely will rekindle your enthusiasm for the game.
If you're doing some early holiday shopping for the chess player on your list, Hesse's book, translated from the original German and boasting a new English foreword from world champ Vishy Anand, is one that can be enjoyed by grandmasters and patzers alike.
The book, with dozens of chapters no more than a few pages long, contains a number of remarkable chess problems, some famous and some, such as the one from today's diagram, that even longtime fans may not know.
The task, set by composers A.V. Sarychev and K.V. Sarychev, is for White to play and draw, and it's quickly evident that 1. c8=Q?? goes nowhere after 1. …Bf5+ 2. Kc7 Bxc8 3. Kxc8 b5 and wins. Also insufficient is 1. Kd6 Bf5 2. Kc5 Ke4 3. Kb6 Bc8, and Black again wins after 4. Kc5 (4. Ka7 b5; 4. Kb5 Kd5 5. Kb6 Kd6 6. Kb5 Kxc7) Ke5 5. Kb5 Kd6 6. Kb6 Kd7 7. Kc5 Kxc7.