Female bus driver accuses 'Lost's' Fox in attack
"Lost" star Matthew Fox has been accused of assaulting a female bus driver in Cleveland.
According to the Cleveland Plain Dealer, Heather Bormann, a mother of three, was punched by Mr. Fox after she refused to allow him onto a private bus party. Miss Bormann, who said she did not recognize the celebrity when he tried to board the bus, claims he started "swinging on her" and reeked of booze.
"He smelled like a liquor cabinet, like a bar," Miss Bormann explained to the newspaper. "I told him, 'Sorry, buddy, this is a private party. You have to get off my vehicle.' I told him three times. He never said a word. He just looked at me."
Miss Bormann, who said she has bruises all over her body, said she assumed Mr. Fox would stop attacking her, so when he didn't, she hit him. After a blow to the mouth, Mr. Fox reportedly fell into a fence but got up to fight Miss Bormann again. Miss Bormann went to a hospital for her wounds, but Mr. Fox reportedly did not receive medical attention.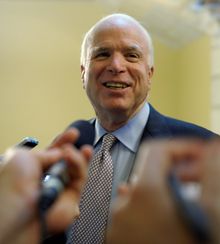 According to the newspaper, Mr. Fox was detained, released and taken back to his hotel in a taxi.
A bus driver for five years, Miss Bormann said she intends to press charges against the Hollywood star.
"By the time I got home, it was all tears," Miss Bormann said.
Read more: http://dailycaller.com/2011/08/31/lost-actor-charged-with-punching-woman/#ixzz1WcdZPFeN
Snooki sends birthday love to mark Sen. McCain's day
For the umpteenth time, "Jersey Shore" cast member Nicole "Snooki" Polizzi has sent her love to Arizona Sen. John McCain, who celebrated his birthday Monday.
The 23-year-old pint-sized Easterner, who said she voted for Mr. McCain in the 2008 presidential election, wished the politician a great 75th.
"Happy 75th Birthday Bro, You're Still A QT To Me," Snooki said, according to Politico.
This is just the latest of the many fond exchanges between the reality star and the Republican senator. In July 2010, Mr. McCain's daughter, Meghan, interviewed Snooki for a Daily Beast piece, and the Jersey girl spoke fondly of "cute" Mr. McCain.
"So when I saw it was Obama and McCain, to be honest with you, the only reason why I voted for your father was because he was really cute and I liked when he did his speeches," Snooki told Miss McCain, who laughed, but said this was "a little weird."