AKAGERA NATIONAL PARK, RWANDA— Villagers near this wildlife refuge live with the daily fear of being mauled to death by animals protected by the government.
The elephants, water buffalo, crocodiles and other beasts of the refuge live in danger of poachers who kill them for meat or hides.
Park rangers, meanwhile, try to keep the animals in, the poachers out and the villagers safe.
Local leaders say as many as 80 percent of farms in the area lose crops to animal raids every year.
"Sometimes, animals kill people. Sometimes, they destroy their crops," said Theogene Semugisha, who oversees social services for Ndego, a district of nearly 15,000 people adjacent to Akagera park.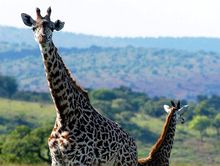 "Then [villagers] cannot feed themselves. It is a very big problem."
In another village, Mushimiyimana Beatha lives with the memory of the day when a wild hippo killed her husband.
"During the dry season, we don't have enough food," she said on the streets of Humere in eastern Rwanda. "My husband went to the forest to get us something to eat. He met a hippopotamus. Villagers found him, and we buried him the next day."
The hippo had wandered out of the 386-square-mile refuge, which is teeming with wildlife and panoramic vistas. Last year, animals killed five people and mauled 15 others. Last month, a wild buffalo killed a man, and nearly half of the park's elephants wandered into a neighboring village.
Like Humere, many other villages in this rapidly growing region are almost entirely populated with refugees who returned in recent years to Rwanda after fleeing war. Almost all are poor and have no place else to go.
In the 1990s, after civil war and genocide devastated this tiny country, the Akagera wildlife park was crowded with refugees, militants and farmers with nowhere else to graze their cattle. Native lions and rhinoceroses were poached or poisoned.
In the years that followed, Rwanda began building internal peace and expanding its economy. Authorities retook the park, which technically has been protected since the 1930s.
Inside the park today, giraffes loiter in the grasslands and giant crocodiles bob in the lakes, while the wings of rare birds skim the glassy surface. Zebras meander through the hills, and baboons sift through the belongings of park staff and steal everything they can get their hands on.
The Rwandan government and a South African nonprofit developer, African Parks, are planning to build a $2.7 million electric fence around the most contentious areas to keep the animals inside the park.
Park rangers say poachers, sometimes in bands of up to 100, attack animals daily. They snare hippos for their large swaths of meat, elephants for tusks and crocodiles for their skin.