Navy couldn't win back the Commander-in-Chief's Trophy. It couldn't reach a ninth straight bowl game.
Still, the Midshipmen certainly weren't going to allow their dominance of Army to come to an end.
Kriss Proctor rushed for two touchdowns and Jon Teague made a pair of fourth-quarter field goals Saturday as Navy outlasted Army 27-21 before 80,789 at FedEx Field to win its 10th straight game in the rivalry.
"To beat Army for a decade is unheard of," Proctor said. "To do anything for 10 straight times is hard to do. For Navy to beat Army 10 straight times is really remarkable."
This triumph might have been the most remarkable of them all – if only because the Mids (5-7) found themselves in a fight nearly to the finish.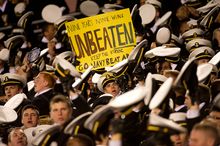 The first Army-Navy game since 2000 to be decided by a possession remained in doubt throughout the fourth quarter, first after the Black Knights (3-9) forced the Mids to kick field goals and later after Army drove deep into Navy territory in search of a go-ahead score.
The underlying truth of Navy's season was that it could not close out tight games. The Mids lost five games by a combined 11 points, a harsh turn of fortune for a team accustomed to more than its share of narrow victories.
But there was something bigger to this bunch. They'd never stumbled against Navy. None of their former teammates had ever stumbled against Army. And that wasn't going to change.
"We weren't going to lose," said fullback Alexander Teich, who moved into ninth place on Navy's career rushing yardage list after 93 on the ground against Navy. "That was kind of the mindset coming in there. You could feel the confidence in everybody. We've been here before. We felt like they would make a mistake at the end to give us the ball back or give us an opportunity to win the game. We were not going to stop fighting."
The Mids fought to construct the most Navy-like drive imaginable, an 18-play grind to churn more than nine minutes off the clock and take a 24-21 lead early in the fourth quarter. Navy scrapped to immediately seize possession again, with freshman Noah Copeland forcing a fumble on the ensuing kickoff.
Teague's second field goal, a 44-yarder, bumped Navy's edge to 27-21. Yet the resilient Black Knights pieced together a long drive of their own that ended only when Navy's Matt Warrick stuffed quarterback Trent Steelman on fourth down.
And that miscue Teich was waiting for? It came when Navy milked the play clock on a fourth down in hopes Army would jump offsides. The Black Knights obliged, allowing Navy to burn off all but two seconds that remained.
"I don't know," coach Ken Niumatalolo said of whether he actually intended to go for it. "We got them on that last year, too. In my wildest dream, I didn't think we'd get them. I was doing that just to take a chance."
No risks seemed necessary when Navy jumped to a 14-0 lead in the second quarter as both Proctor and Teich rushed for scores. But Army scored twice in the four minutes before the break, adding an element of tension in a series frequently devoid of it in recent years.
As the second half started, Teich rushed over to exhort the brigade of Midshipmen, as is his custom. Then he sauntered out for his first kickoff return of the season – and brought it back 48 yards.